A few balcony gardening tips never go astray when you're first starting out, do they? I jumped in the deep-end and started a massive garden from the get-go. It certainly taught me some hard and very expensive lessons.
It's taken us a couple of years to build a thriving garden. Now though, we have our own little urban farm. It's just so wonderful to know we are putting food on our table that we grew in our own space. Right in the heart of the city too! People often think it's just not possible but with a little planning and care, it definitely is.
There are so many balcony gardening tips that I could share with you but I'm going to start with my top five. They're things I know that have made a big difference for us.
Tip 1 – Grow what you like to eat
I know that sounds really basic. You'd be surprised how many people say they don't know what to do with what they've grown though.
Watching plants grow from seeds or tiny seedlings into edible things is so exciting. What's even more exciting though is taking it straight from your balcony and into the kitchen. Have a good hard think about what vegetables you regularly buy to eat and start with growing those. Don't like eggplant? You don't have to plant it. Hate capsicum? Same thing. The choice is yours so make sure you're planting things you love. If you're a bit more adventurous try planting vegetables that aren't found in supermarkets. Places like The Seed Collection sell lots of great heirloom seeds you can try.
I love to cook, preserve and ferment so I make sure I grow a range of things that fit that. One of my top favourite ferments is sour pickles. As a result, I always make sure I have room in the garden to plant a variety of cucumbers. These little cucamelons have been some of my favourites.
Tip 2 – Buy bigger pots that offer good drainage
In my experience, bigger pots are better for beginners because they hold moisture longer. And that's a good thing, as figuring out watering needs for pot-based gardens requires a bit of trial and error.
Frequency of watering will depend on the size of your pot, how much sun your balcony is exposed to and how hot it is where you are. Your plants may also need more water if you use terracotta pots given they're porous and increased evaporation occurs.
Often though, plants can die off from over watering not under, as we tend to think when starting out. One of the biggest reasons for this can actually be from drainage problems. With that in mind, it's important to ensure that any pot you buy has at least one drainage hole in the bottom.
Lack of drainage means the plant roots may always remain wet, which can lead to them 'drowning'. When water drains properly your plant will get plenty of water, air and nutrients. Exactly what they need to be healthy. And healthy roots mean healthy, productive plants.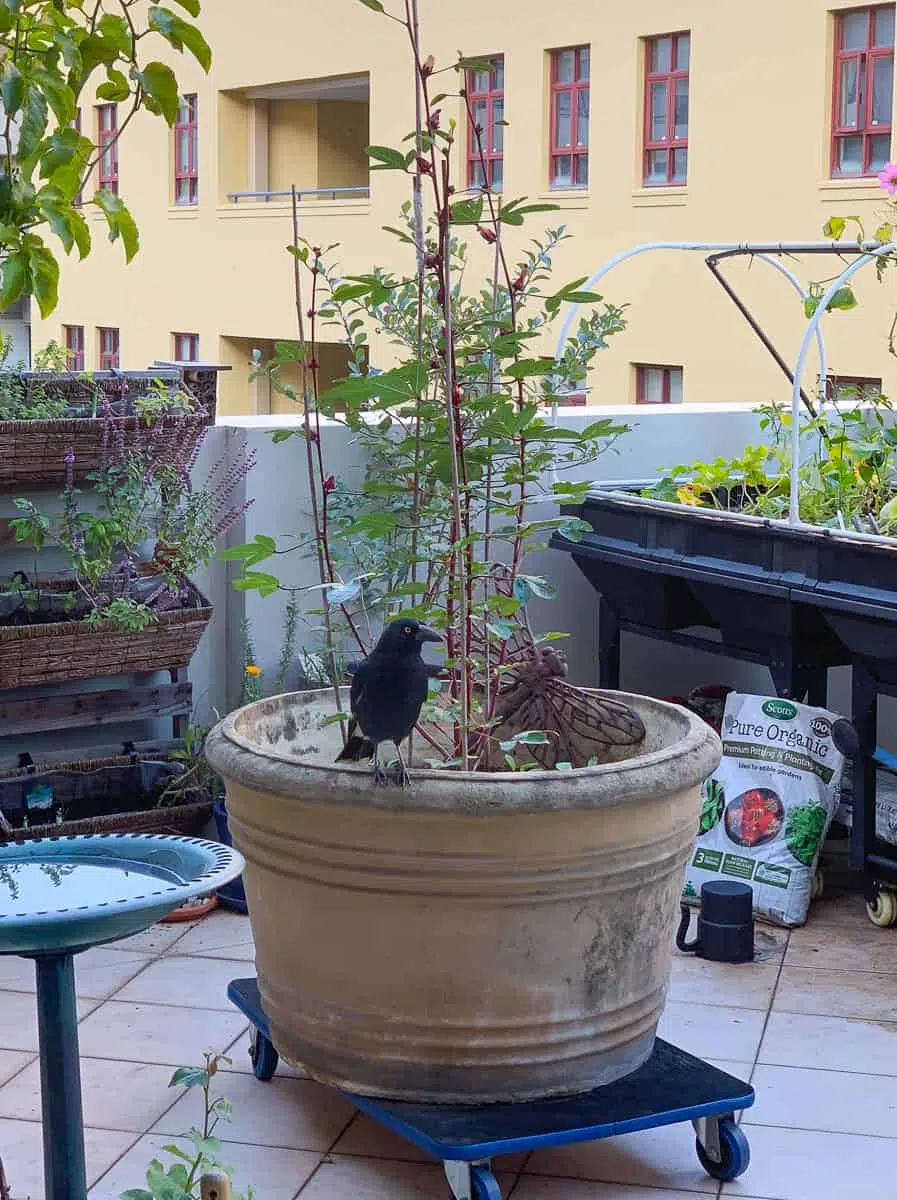 Tip 3 – Don't forget the compost
This is probably one of the most important balcony gardening tips I could share. It was one of the expensive mistakes I made when first starting out. Filling our massive vegepods with lots of soil and a tiny bit of compost.
The vegepods take about 18 x 25L bags of soil. Our big pots take about 9 x 25L bags. In all of that soil I put one bag of compost in each vegepod and about 1/2 a bag in each of the very large pots. Guess what happened? Not much! That was my first year of gardening and I got very little to show for it. Maybe the occasional tiny capsicum or radish but that was it.
Compost is a must for all gardens. It provides essential nutrients for the soil, helps maintain soil quality, wards off harmful pests, aids moisture retention and reduces the need for harmful fertilisers.
Once I figured that out we removed about three or so bags of soil from the vegepods then added compost in to replace it. My next growing season produced bucketloads of delicious things. I didn't have my own at the time so raided a friend's compost bin. If you have room on your balcony though – I really recommend it. We now have a compost tumbler and not only does it help with the garden but it is a very easy way to help you reduce your kitchen waste. Don't forget your worm towers either!
Tip 4 – Put your pots on wheels
In my post on planning a balcony garden, I suggested you should 'consider' having pots on wheels. I actually think this is a not negotiable for a couple of main reasons.
Firstly – you can reclaim space if and when you need it. I love having lots of gardening space on our balcony but as an avid cook – I also love to entertain. That would mean moving a heap of heavy pots and vegepods every time we wanted to eat outside. Not such an issue when everything is on wheels.
Secondly – having pots you can move around means you can maximise the sunlight your plants receive. It can be the difference between a very average yield and a really great one.
Then there's the added bonus of not having to lift heavy things if you have a dodgy back.
Tip 5 – Create your own little eco-system
Aside from edibles you also want to plant flowers that will attract bees and other beneficial insects. They're needed to help you pollinate the edibles in your garden so they yield plenty of produce.
Things like borage, cornflour, tulsi basil, cosmos and calendula have all been very popular on our balcony. To accompany those, we have little bee drinking stations all around too. Just small terracotta saucers filled with rocks, coloured marbles and water for the bees to land on and drink from.
Remember to make the birds feel welcome too. We have both a bird bath and bird feeder to make sure they stop by each day. I also did some research to find out exactly the kind of food each bird type should be eating. It's quite a mix between the lorikeets, currawongs, magpies, spotted doves, mynahs, minors, sparrows and crows! All of them are a fabulous help with caterpillar and curl grub control though so they're very welcome. Well, all except the lorikeets are helpful. They just like being fed…
Do you have other balcony gardening tips to share to help create a beautiful garden? Let us know what they are in the comments.