Beetroot and goats cheese risotto
Beetroot and goats cheese risotto is a perfect stodgy winter meal that leaves you warm for hours. I'm one of those people that gets cold to the bone so I love this kind of recipe.
And I honestly don't think there is a better combination than beetroot, goat's cheese, and spinach. The earthy flavours meld together so well.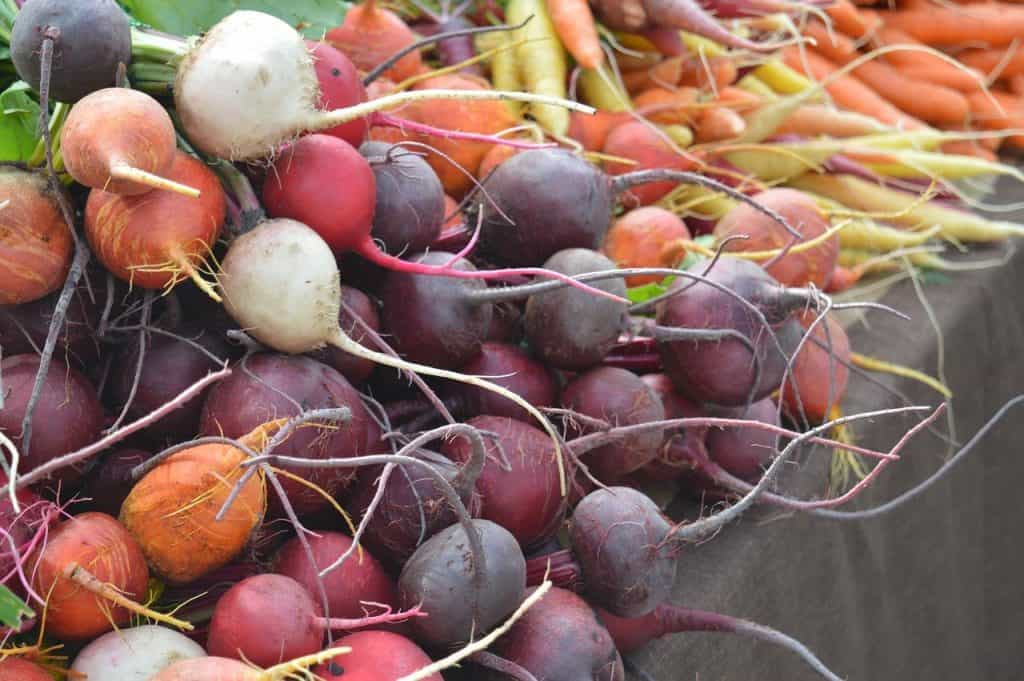 Have you ever grown your own beetroot at home? It's such a great thing to do because they're easy and you can eat the greens as they grow. They like full sun, moist; well-drained soil and they do take a little time. Given everyone has caught the gardening bug during the pandemic – it's worth considering though! Their growing season is Spring through to late Autumn and there are several varieties too. It's not just red beets you'll find – there are yellow, white, candy striped and even elongated beets.
Did you know that beet greens were edible? They are, and they're incredibly rich in nutrients too. I would have used them here but had already cooked mine. Always buy your beetroot bunches with the greens attached. And if you have some lying around you can absolutely use them in place of the spinach here.
Not sure how else to cook beet greens? Just use them exactly as you would spinach. Wash/dry, chop and pan fry in a little olive oil, use in a cheese and spinach pie… whatever takes your fancy.
Tips to help you make the best beetroot and goats cheese risotto
I used to shy away from making risottos because they always seemed too hard to get right. However, with a little trial and error behind me they're now perfect every time. With a few tips up your sleeve, you'll be making risotto like a pro in no time too.
Use roughly 2 litres (4 cups) of stock for every cup of rice you're adding. I've tried so many variations but this one seems to produce the best result
Cook over a medium heat so it's just simmering. I read so often it should be cooked on low heat and all that did was either make it mushy or increase the cooking time… that still resulted in mush
If you want added vegetables in your risotto cook them separately. This one took me a while to figure out I'll admit. But – cooking veg with the rice is asking too much of your risotto in my opinion. As in my recipe here – if you cook them separately then add them in at the end you get a far better result
Don't stir constantly, only occasionally. Another one that took some research and time to perfect. I used to stir my risotto obsessively… because how many recipes say to do that?! But – many moons ago I worked as a paella chef for a time and learnt that constantly stirring cools down the rice because it lets in a lot of air. That is what will make your rice mushy. Then again, it does need just enough stirring to agitate the rice so it releases the starch. I used those principles on my risottos and they were awesome from there on in! So – stir a few times after you add in each ladle of stock so the rice doesn't stick to the bottom but, definitely not constantly
Keep it al dente – Like pasta, risotto should have a little bit of bite to it when it's done so don't overcook it
Use a diffuser to diffuse heat evenly around your pot if it's bigger than the heat source it's sitting on. This helps to avoid hot and cold spots in your saucepan.
That should have you well on your way to making a delicious risotto for friends or family. Enjoy!
Do you have any other favourite risotto flavour combinations? Let me know in the comments.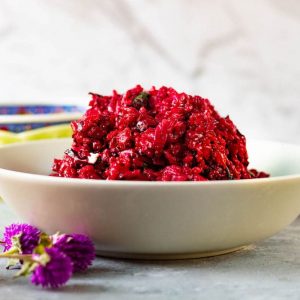 Beetroot and goats cheese risotto
This beetroot and goats cheese risotto is one of those perfect stodgy winter meals that leaves you warm for hours. Just the thing when cold weather strikes!
Print
Pin
Rate
Equipment
Wide saucepan to make the risotto, I used a Le Creuset casserole

Small saucepan to boil stock

Diffuser (optional)

Baking dish
Ingredients
500

g

beetroot,

peeled and cut into ~3cm pieces

1

onion,

diced

2

cloves

garlic,

finely chopped

2

Tbsp

olive oil

1

cup

arborio rice (220g)

4

cups

chicken stock

½

cup

red wine

4

sprigs

thyme,

leaves removed

100

g

goats cheese

1

cup

baby spinach

Salt and pepper to taste
Instructions
Preheat the oven to 160 degrees Celsius (320 F)

Peel the beetroot and cut into ~3cm pieces. Drizzle with 1 Tablespoon of olive oil and sprinkle with salt and pepper. Bake for 45mins or until cooked through. Once cooked, whizz in the blender to make a chunky paste

While the beetroot is cooking – bring the stock to a simmer in a small saucepan

If using a diffuser – place your wide saucepan on it over a medium heat. The diffuser will ensure even heating throughout your pan.

Heat the remaining Tablespoon of olive oil in it, then add in the onion and garlic. Season with salt and pepper and cook until onion is translucent (about 5 minutes)

Add the rice and stir to coat with the oil, onion and garlic mixture

Add in the wine and stir occasionally until it has evaporated

Now start to add the broth. Add 1 ladle and cook, stirring often (no need to stir constantly), until broth is almost absorbed.

Add remaining broth one ladle at a time allowing it to be absorbed before adding more. Stir occasionally until all broth has been added and rice is tender but still firm to the bite and your risotto is creamy. This was about 30 minutes total for me.

Add in the blended beetroot, baby spinach and 50g of the goats cheese. Stir through until the baby spinach wilts (about 2 minutes).

Divide risotto among bowls and sprinkle with the remaining goats cheese. Season with extra salt and pepper.
Nutrition
Serving:
200
g
|
Calories:
489
kcal
|
Carbohydrates:
64
g
|
Protein:
17
g
|
Fat:
16
g
|
Saturated Fat:
6
g
|
Cholesterol:
19
mg
|
Sodium:
542
mg
|
Potassium:
816
mg
|
Fiber:
6
g
|
Sugar:
14
g
|
Vitamin A:
1050
IU
|
Vitamin C:
13
mg
|
Calcium:
83
mg
|
Iron:
5
mg