Learning how to make sour pickles means you'll always have delicious snacks in the fridge. I don't think there's anything I love more of an afternoon. Other people are out there reaching for the chocolate but it's pickles, or at least something fermented, every time for me.
I think the first time I tried these was at Katz's Delicatessen in New York City and I loved them instantly. Before that trip I had no idea there were so many varieties!
Are sour pickles healthy?
As with all other fermented foods there are many and varied health benefits that come from eating sour pickles. They're great digestive aids (I often eat one before a meal but of course they're great with it too), they contain probiotic bacteria so are great for the gut and they can help with muscle cramps to boot… amongst many other things.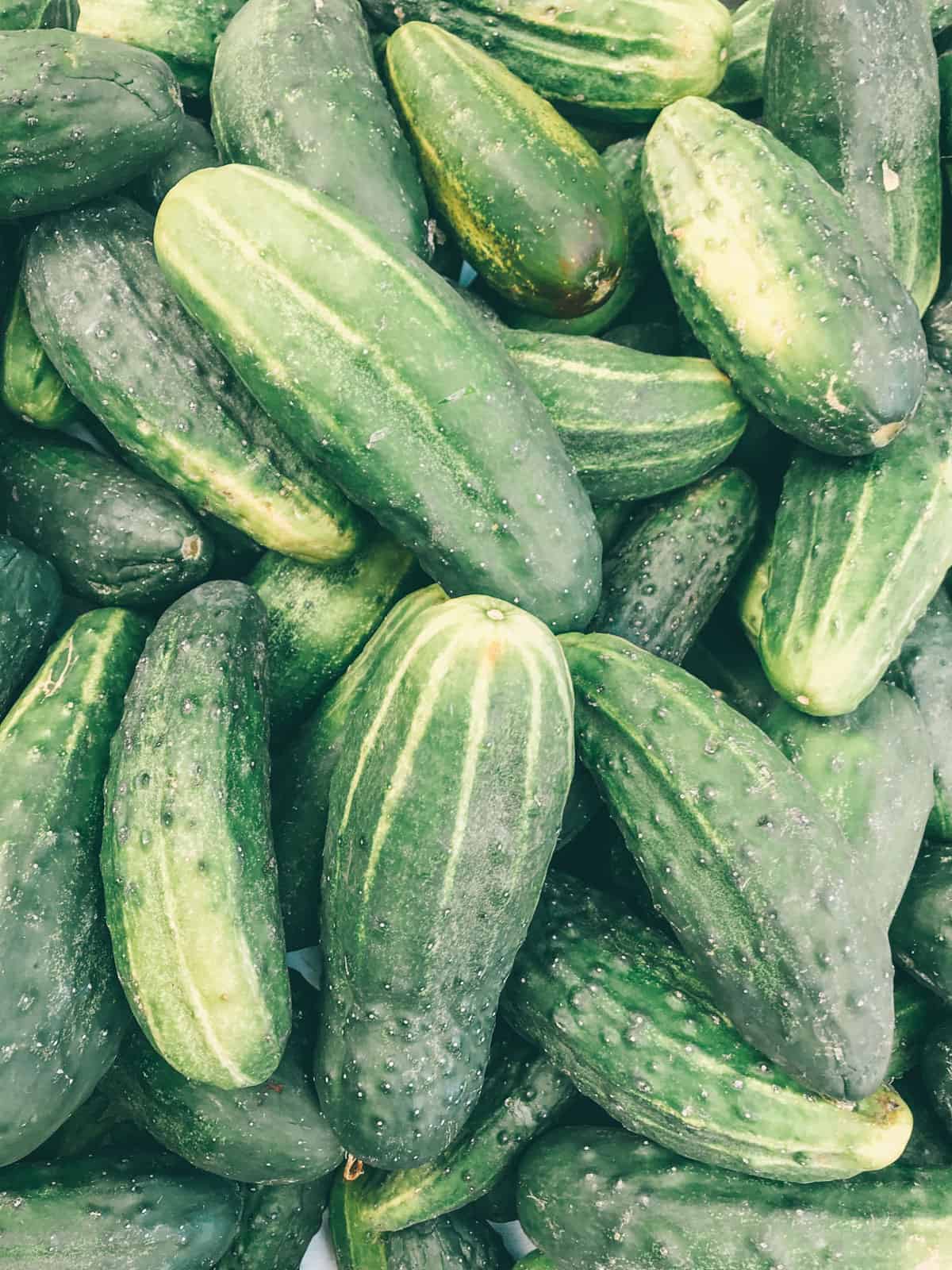 Joining a pickle mob
Earlier this year the wonderful team from The Fermentary hosted an Australian fermentation tour – Ferment Yourself Wild. The guest of honour was the Godfather of Fermentation himself, Sandor Katz.
I chose to go to several of the events between Sydney and Melbourne and am so very grateful for that now. Of course, it was incredible to be surrounded by such a big bunch of fermentation fanatics. And to have the opportunity to hear Sandor cover so many topics. However, little did any of us know at the time that a pandemic was about to hit. Nor that travel may be off the table for some time to come. As someone that loves an adventure – it's the time away I am also very grateful for at this point in time.
One super enjoyable event that formed part of the tour was a Pickle Mob at Carriageworks, Eveleigh. Basically, a whole bunch of people all made a big jar of sour pickles together. This all happened while Sandor yelled out the recipe / steps to a huge crowd. Fun!
If you've been wanting to learn how to make sour pickles too, now is the time! I have a relatively small batch recipe here, but if you'd like to make a huge one to ferment in a crock – follow Sandor's recipe.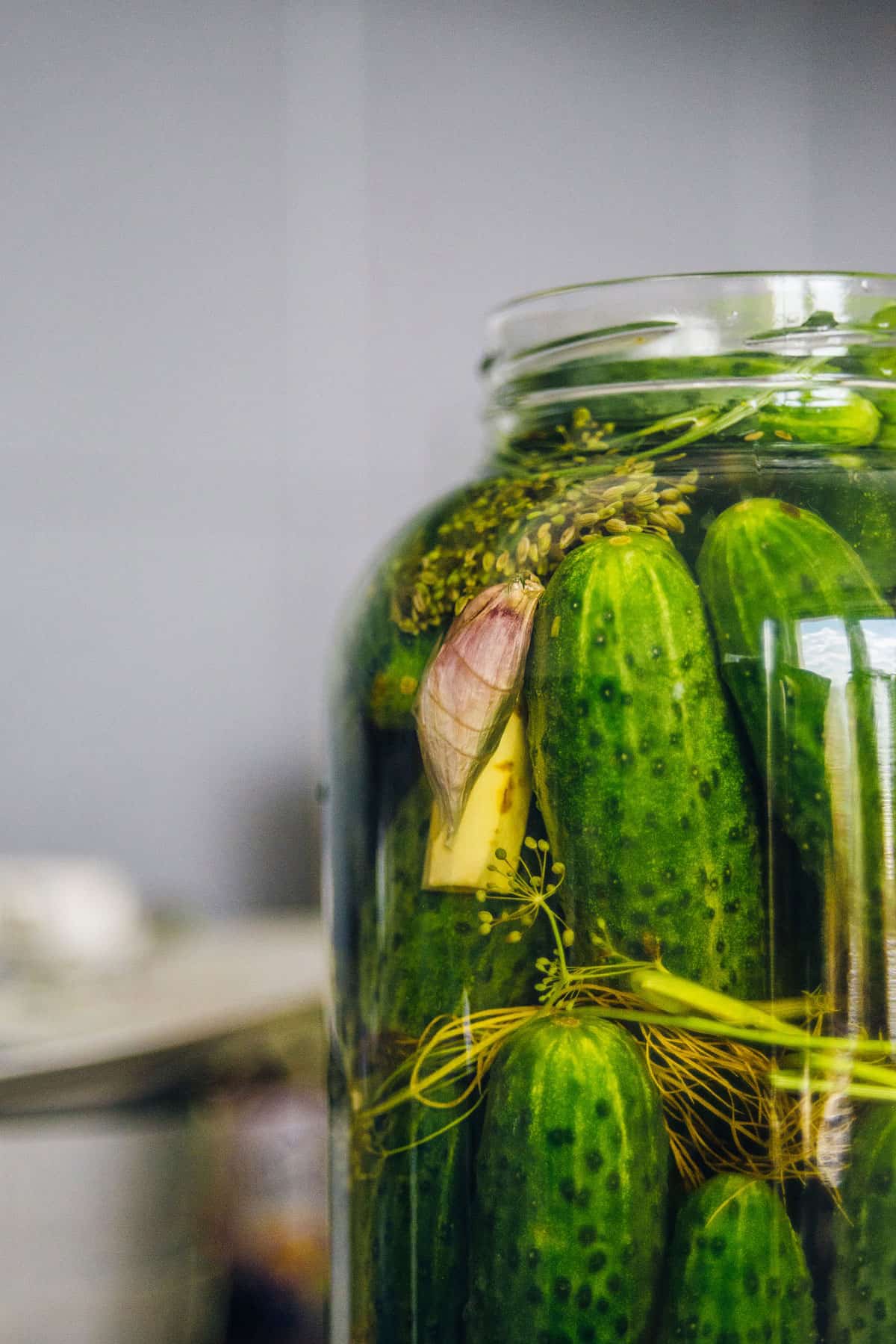 Just on all things crocks….
I love them! When first starting out I did all my fermenting in jars. Then, I came to learn about crocks and got myself a standard 5L variety. There are now three sitting on my fermentation station with many more to come I'm sure.
My ferments have never tasted better than when they come out of a crock. I still ferment in jars too – but anything I can get into a crock goes in. There are so many lovely varieties. One of the most stunning I have is by Australian ceramicist Emma Jimson of Pom-me-granite studios.
Once you've made these sour pickles you will no doubt want to dig into some other easy ferments too. Have a look at my fermented garlic honey recipe, or the garlic miso. Both are super simple and delicious!
What kind of pickles are your favourite? Let me know in the comments!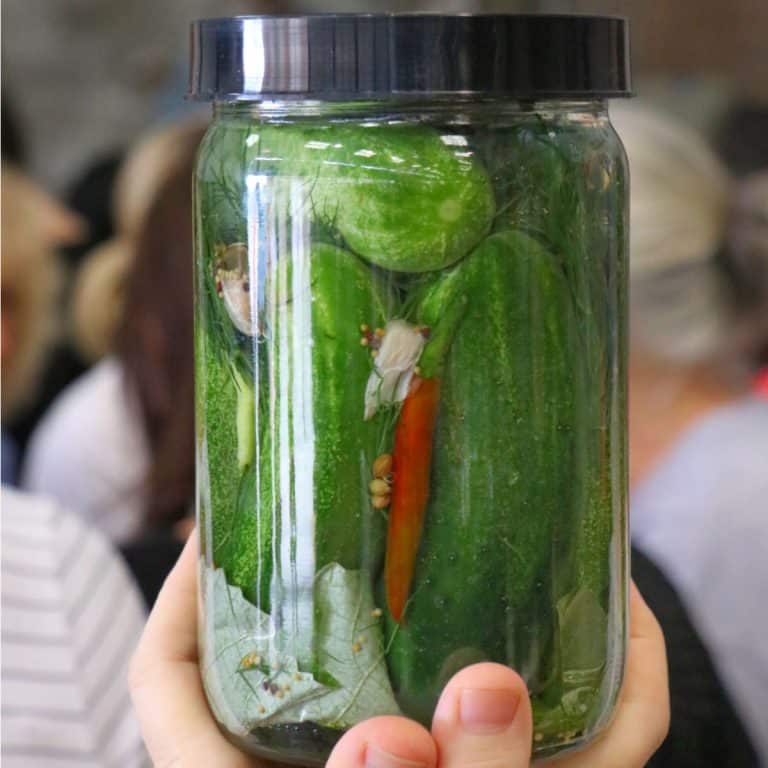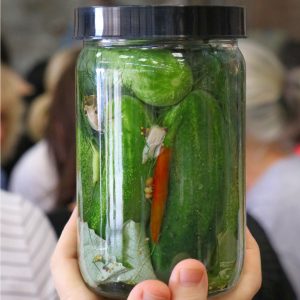 How to make sour pickles
A deliciously sour treat that can be enjoyed at any time of the day.
Print
Pin
Rate
Equipment
2 Litre jar + lid

OR Fancy airlock lid
Ingredients
3

Tbsp

Celtic sea salt

2

litres

water

500

g

small, unwaxed cucumbers.

You may actually need up to 1kg. Size of the cucumbers is the reason the weight can vary so much. It's better to have too many than not enough when trying to fill your jar though.

2

sprigs

fresh dill

4

cloves

garlic, peeled.

You can add more if you like. I'll often add up to one full head.

2

fresh chillies

2

tsp

mustard seeds

1

tsp

black peppercorns

2

vine leaves
Instructions
Wash cucumbers well and scrape the blossom end to remove the white residue (see pic below). If your cucumbers weren't freshly picked, soak them for a couple of hours in ice cold water so they recover a little of that freshness

In a jug, create a brine by dissolving the sea salt in 2 litres of water. Stir until salt is thoroughly dissolved

Clean your jar well in hot soapy water (and rinse!), then place in a couple of fresh vine leaves, dill, garlic, mustard seeds, fresh chillies and black peppercorns

Now place the cucumbers in your jar. Make sure you stuff in as many as possible (without bruising them) so they will stay submerged under the water as they start to shrink a little in the brine

Pour your brine over the cucumbers and ensure they are completely covered by it

Close the jar with the lid or your fancy airlock lid. Store in a cool place so they don't ferment too quickly

Check your jar daily and skim off any white mould you see growing on the top if it appears. If, however, you're seeing pink, green or blue mould – the batch has been contaminated and needs to be discarded. This can happen if your jar, utensils or hands were not super clean before starting 

Once you start to see the liquid become bubbly or effervescent (usually a few days) the pickles are beginning their fermentation process. If not using a jar with an airlock – I 'burp' the jar each day, just by unscrewing the lid and doing it up again. You're likely to hear a fizz when you do this

Your pickles are ready for eating to your taste really, so give them a little try every few days. When the flavour suits you move them to the fridge. This might be anywhere from 1 – 4 weeks, although I tend to put mine in the fridge after about one to two weeks. They will keep fermenting in there… just much more slowly.
Notes
As per the first point – you can see the cucumber on the top here has a little white staining where the flower was before it fell off. I've scraped that off in the bottom cucumber. This helps to reduce the pectin consuming enzymes that can cause the cucumbers to become mushy.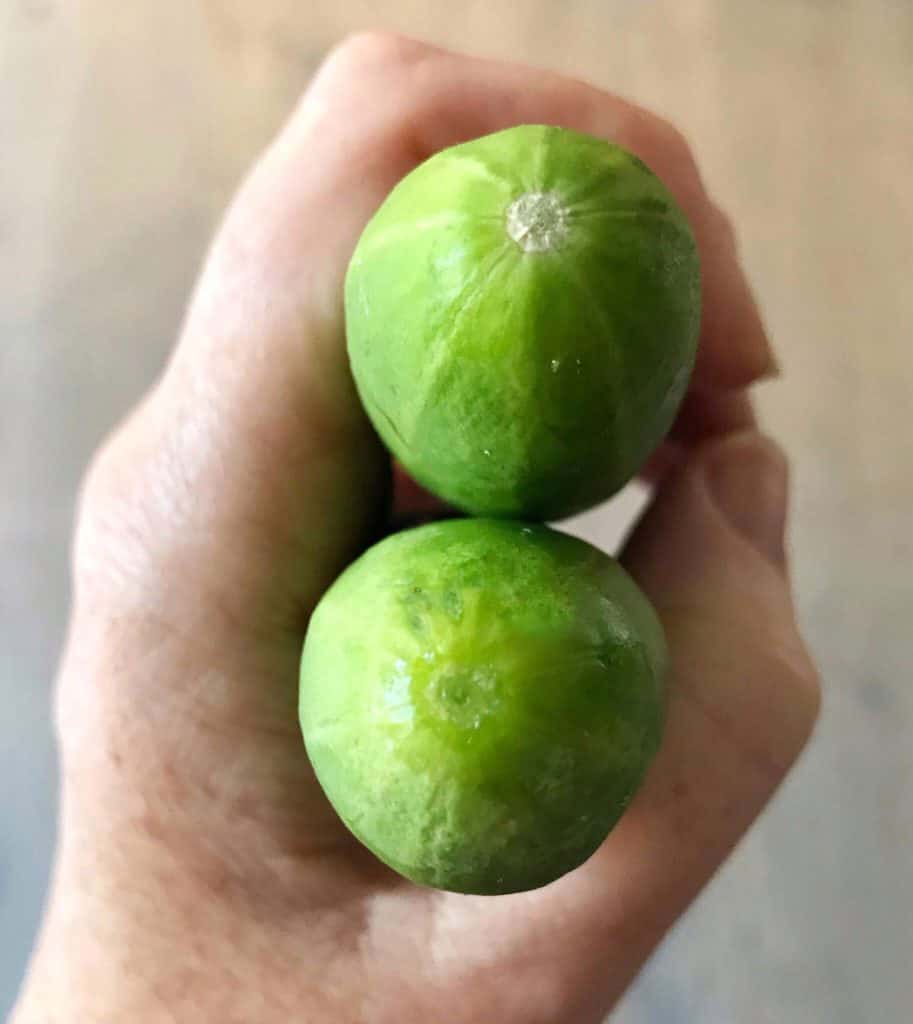 Nutrition
Serving:
1
pickle
|
Calories:
39
kcal
|
Carbohydrates:
7
g
|
Protein:
2
g
|
Fat:
1
g
|
Saturated Fat:
1
g
|
Sodium:
5238
mg
|
Potassium:
280
mg
|
Fiber:
2
g
|
Sugar:
3
g
|
Vitamin A:
304
IU
|
Vitamin C:
37
mg
|
Calcium:
38
mg
|
Iron:
1
mg