Fermented garlic honey has to be one of the easiest ferments to make. Honestly, it couldn't be easier. It's two ingredients, leave for a bit then enjoy. Simple, which is just what we need right now, isn't it?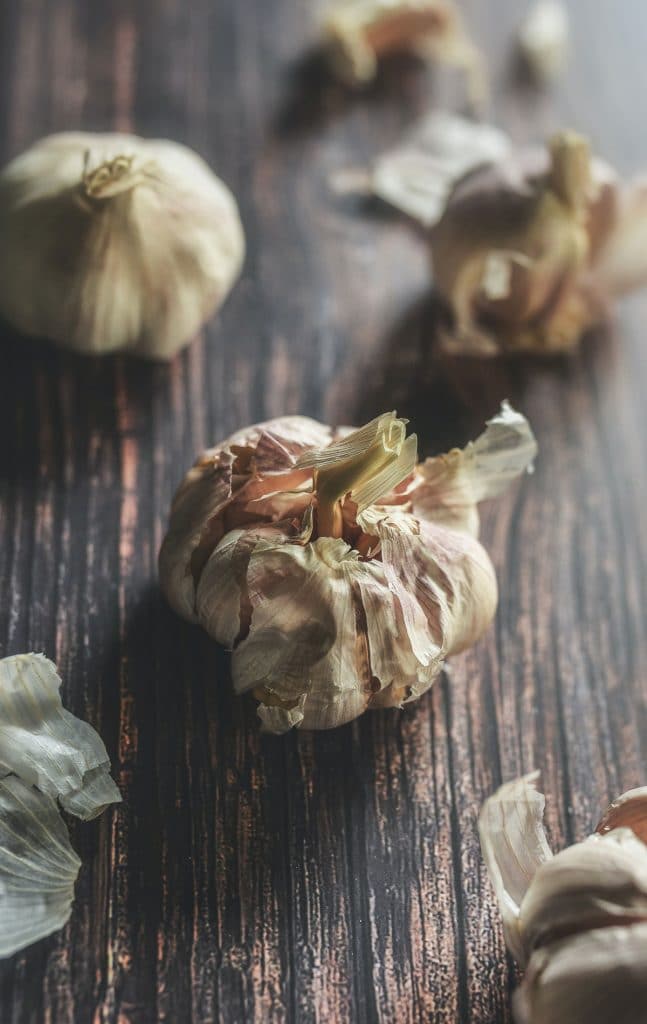 Is it safe to add garlic to honey?
Let's address this one straight up. Something that seems to cause a lot of concern with this ferment is botulism. However, I found absolutely no documented cases of botulism contamination when doing my research on it. Nothing in research papers, nothing on the Centers for Disease Control and Prevention, Food Safety and Inspection Service, Food Safety Australia etc. Just a lot of speculation on blogs, which feels like people may be putting 2+2 together and getting 5.
Clostridium botulinum (CB) can be found in soil and as a result, it can be present on foods such as garlic. It can also be present in honey (and mostly harmful to infants here). That is not to say that adding the two together = botulism.
CB needs a neutral ph, moist environment, and no oxygen to thrive. It's important to note that food preservatives, like sugar, inhibit it. That includes honey.
Honey is roughly 80% sugar and 20% water so qualifies as a high-sugar, low-moisture food. The garlic does produce a little moisture, which slightly dilutes the mix. It's not enough to make it troublesome though. There are also the protective effects of the fermentation process.
All of that in mind – I feel it is a safe and very nourishing ferment to make – but please don't take my word for it. Dig into your own research and chat to your health practitioner if you want to make it and you're concerned. You can also keep it in the fridge to ease your mind.
What are the health benefits of this ferment?
Plenty, with thanks to the two very nourishing ingredients it contains.
Aside from its use as a natural sweetener in cooking, honey has traditionally been used for its curative powers and has also been used as a preservative. It was even discovered in royal tombs in Ancient Egypt!
A mixture of garlic and honey is a very old remedy. Used historically for its antibacterial, antiseptic, antiviral, antimicrobial and anti-parasitic properties. This makes it a perfect food as medicine to have in our Autumn/Winter toolbox.
Steps for making fermented garlic honey
There really only are four simple steps here – it's ridiculously easy!
STEP ONE – Peel all the garlic cloves and pop them in the jar as you go.
You really can use any jar you like. I have mine in a jar with an airlock, which can be bought from The Fermentary. If using this kind of jar you'll also need a glass weight because you can't turn the jar daily.
STEP TWO – Pour honey over the top leaving roughly 2-3cm (1 inch) head room.
STEP THREE – Stir to coat all the garlic cloves.
I like to use a chopstick for this. It's the easiest way to move all the garlic around.
STEP FOUR – Turn the jar every day. This just helps to ensure the garlic always stays submerged under the honey.
I actually used a 1 litre jar for mine, which you'll see in my photo. I felt like I was peeling garlic forever! It does mean we have a decent sized batch sitting on our shelf though. That definitely made it worth it.
Once you've made this – jump on in and try another simple ferment…. my Garlic Miso. You can never have enough garlic in the kitchen!
Have you made this ferment before? Let me know in the comments.
Ingredients
5

heads

garlic (approx. 30-35 cloves),

peeled. (More or less may be needed if you're using a different sized jar)

400

ml

raw honey

(More or less may be needed if you're using a different sized jar)
Instructions
Peel the garlic cloves adding them to your clean jar as you go

Fill your jar with honey leaving roughly 2-3cm head room (about 1 inch). Stir with a chopstick to ensure the honey gets all the way to the bottom and coats all the cloves

Pop the lid on the jar and turn it every day to ensure the garlic remains coated in honey. So, one day the jar is sitting on its lid, the next it's upright. The garlic will eventually sink to the bottom and then there will be no need to keep turning the jar. If using a jar with an airlock lid – be sure to weigh the garlic down with something. I have a glass weight inside my jar that can be bought from The Fermentary

Leave to ferment for one month

When ready (you'll notice the honey as become more liquid) – take a teaspoon of the garlicky honey daily during Winter to help keep colds at bay. It's great management for a sore throat too! You can also just eat a garlic clove with the honey as is or if you'd prefer, you can chop them up and add to salad dressings or meals. Do be sure to enjoy it raw however you choose to use it. Immune boosting at its best!
Notes
I've included nigella seeds in mine here. I added 2 tsp just to try it out. It does make the honey a little bitter though so I'll probably leave them out in future.
Nutrition
Serving:
1
Tbsp
|
Calories:
1425
kcal
|
Carbohydrates:
376
g
|
Protein:
10
g
|
Fat:
1
g
|
Saturated Fat:
1
g
|
Sodium:
40
mg
|
Potassium:
769
mg
|
Fiber:
4
g
|
Sugar:
330
g
|
Vitamin C:
46
mg
|
Calcium:
277
mg
|
Iron:
4
mg