The Anzac biscuit recipe is one of significance in Australia and New Zealand. Folks enjoy these biscuits on the 25th April each year, as a way to commemorate military personnel in both countries who have served in all wars, conflicts, and peacekeeping operations.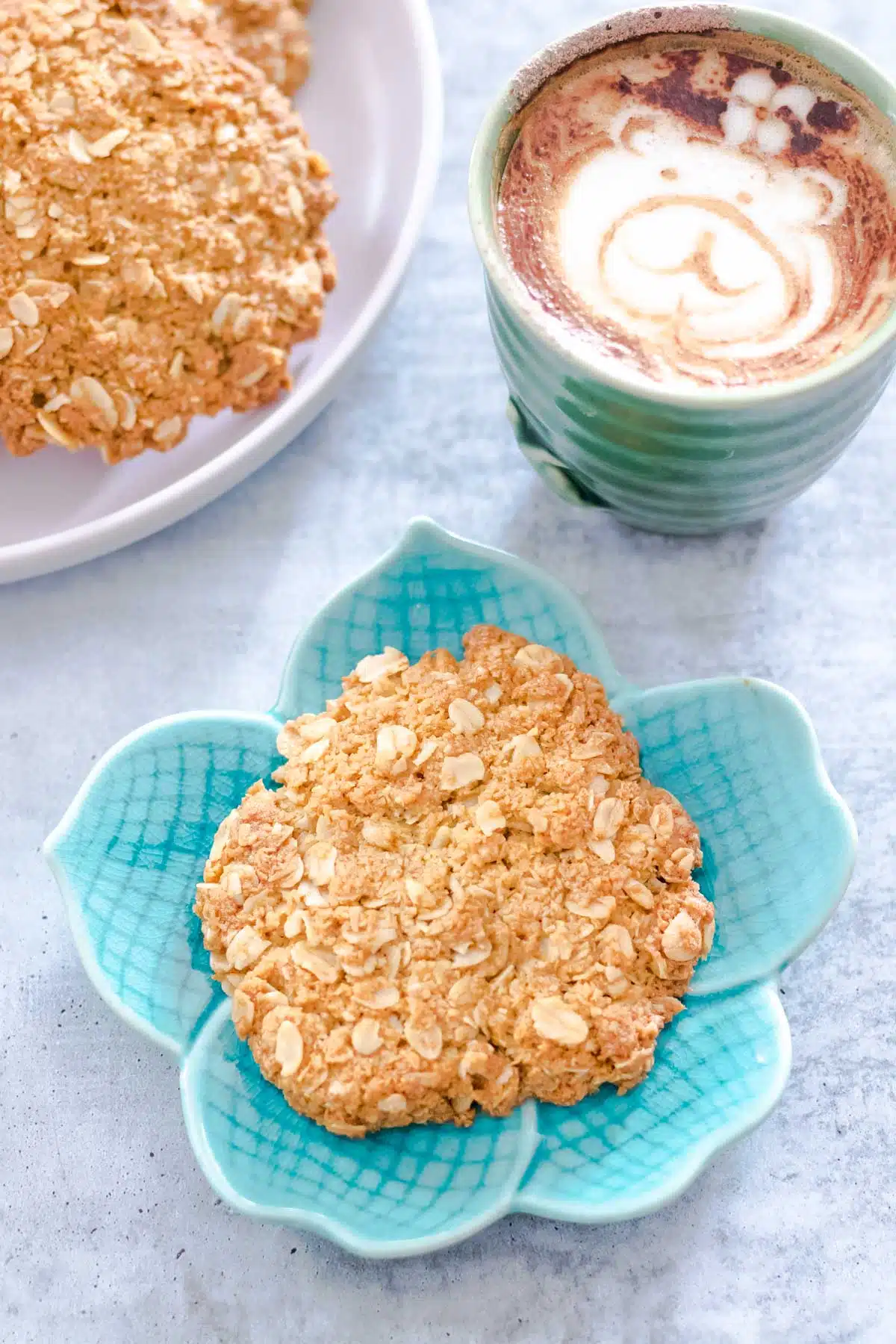 History of Anzac biscuits
A recipe similar to the Anzac biscuit was first written in 1823. At the time they were known by various names such as crispies or surprise biscuits. However, the biscuits became part of the fundraising effort in the early years of World War One. As such the name changed to soldiers' biscuits and red cross biscuits, which eventually became Anzac biscuits.
The recipe was popular at the time because the ingredients were readily available, even during the war. But also, because they didn't contain eggs. This meant they kept well and lasted the journey when sent to the soldiers.
The origins of the Anzac biscuit recipe have been difficult to uncover. However, a South Australian woman was identified as having the original in her notebook. This version did not include coconut and has been dated at around 1919. The second version, that did include coconut, was first published in 1924. This version is now the closest recipe to the one most people use today.
If you'd like to know more, take a look at this article from the ABC by Eloise Fuss. It's based on 18 months of research completed by culinary historian Allison Reynolds.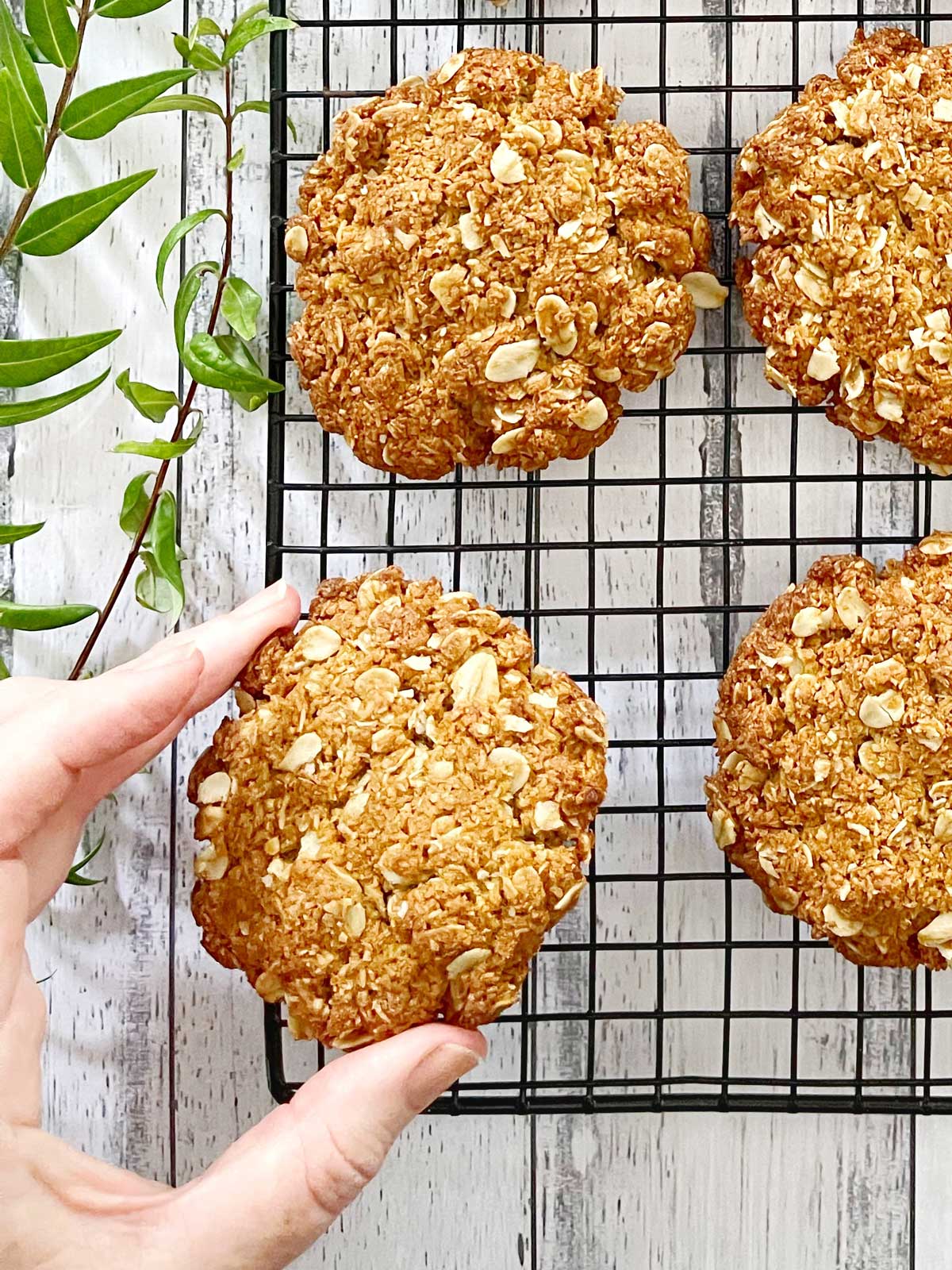 Ingredients you'll need for these Anzac biscuits
As with the original recipe all these ingredients are easy to find. The only one that may be tricky is the oat flour though it does tend to be readily available in most supermarkets.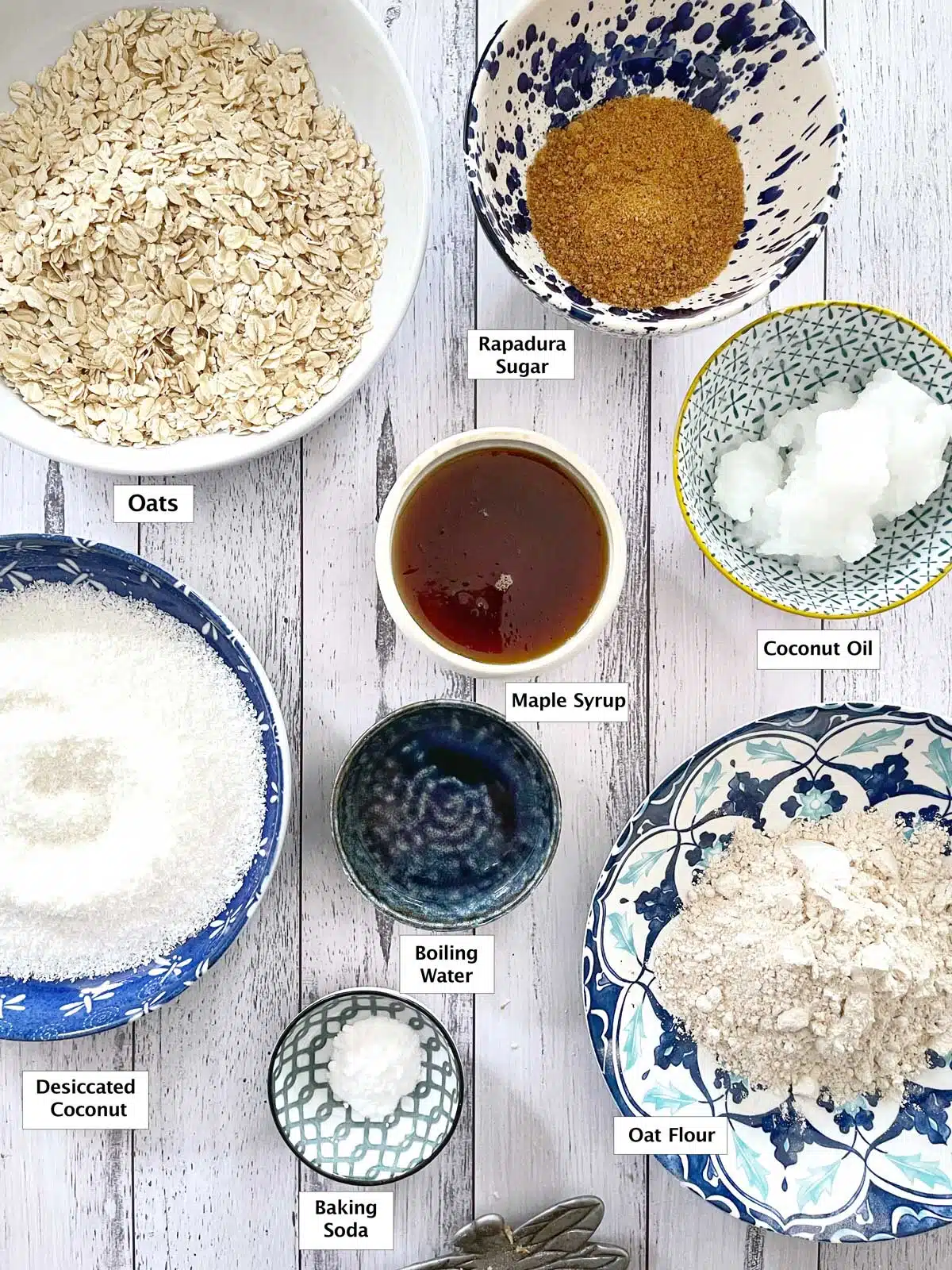 Rolled oats – because it's not Anzac biscuits without them! This is also the reason it's not possible to make them gluten free. To clarify, some brands do label their oats as gluten free. At this time though, oats are not considered gluten free in Australia due to the risk of cross contamination.
Desiccated coconut – the modern touch to the Anzac biscuit. As noted in the history above, this ingredient wasn't in the original recipe. I love the added flavour though!
Oat flour – this has a great nutritional profile so it's one of my preferred when baking.
Coconut oil – this is replacing butter in the original recipe, which makes them vegan and also means that those with dairy intolerances can enjoy them too.
Maple syrup – a wonderful natural sweetener filled with minerals. It's always my go to when baking.
Rapadura sugar – this still contains molasses making it a less refined sugar.
Baking soda – this acts as a leavening agent that helps the biscuits rise while baking.
There's always some debate about whether Anzac biscuits should be chewy or crunchy. The original biscuits were crunchy. They had to be, to ensure they'd make it on the long journey to the soldiers on the front lines. These days people have their preferences though and many recipes – like this one – oblige by providing a chewier biscuit.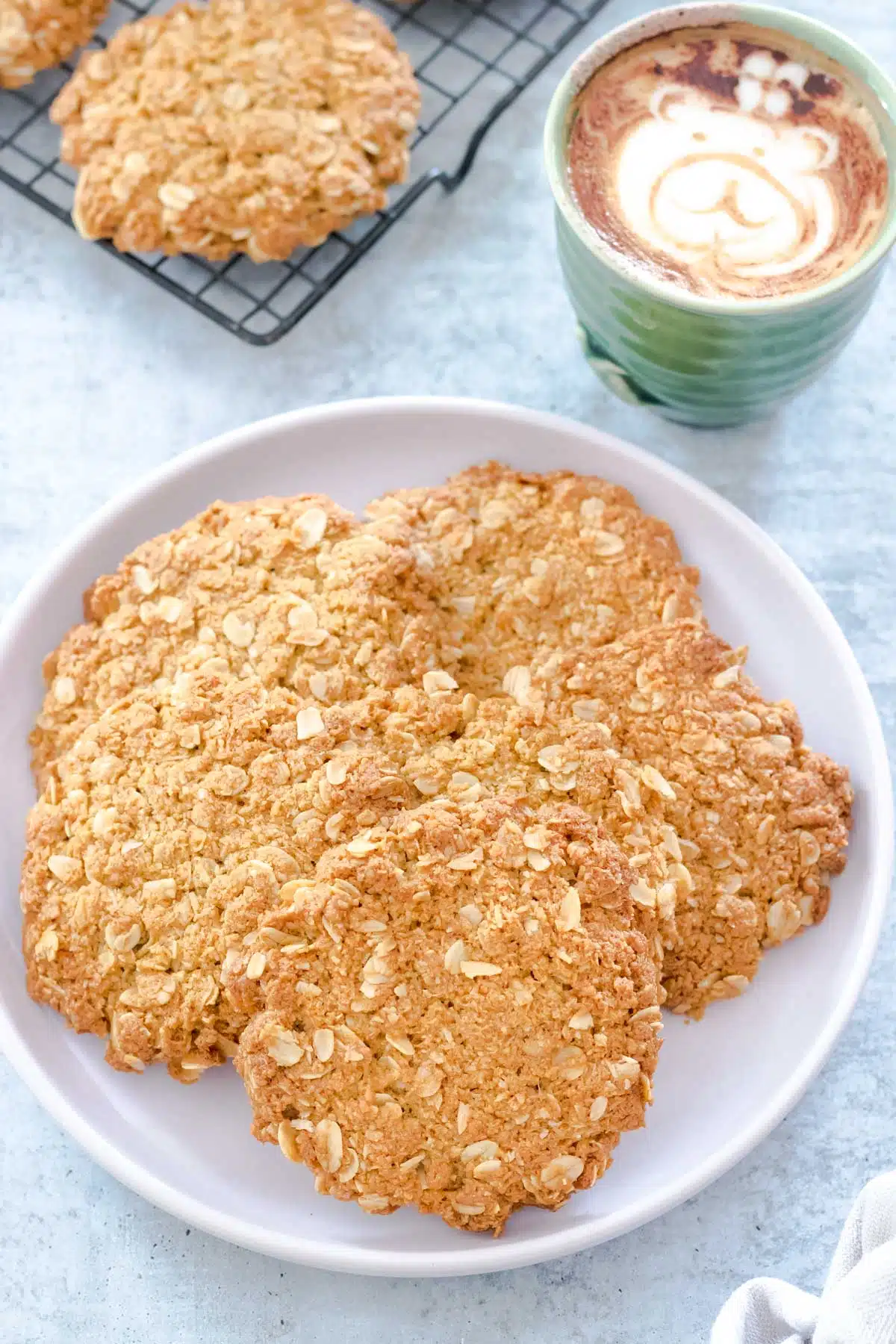 How to make Anzac biscuits
This recipe is quite simple and can be made in under 20 minutes. The biscuits come together in a few simple steps and bake quickly too.
Preheat the oven to 170°C (325°F) and get your baking tray ready.
Add the dry ingredients to one bowl and mix well.
Combine wet ingredients, add in the combined baking soda and water then add the liquids to the dry mix.
Take two heaped Tablespoons of the mixture, and form into biscuits on the prepared baking tray. Flatten slightly with your hand or the bottom of a glass before cooking.
Bake for 12-14 mins or until golden. Allow to cool completely before eating.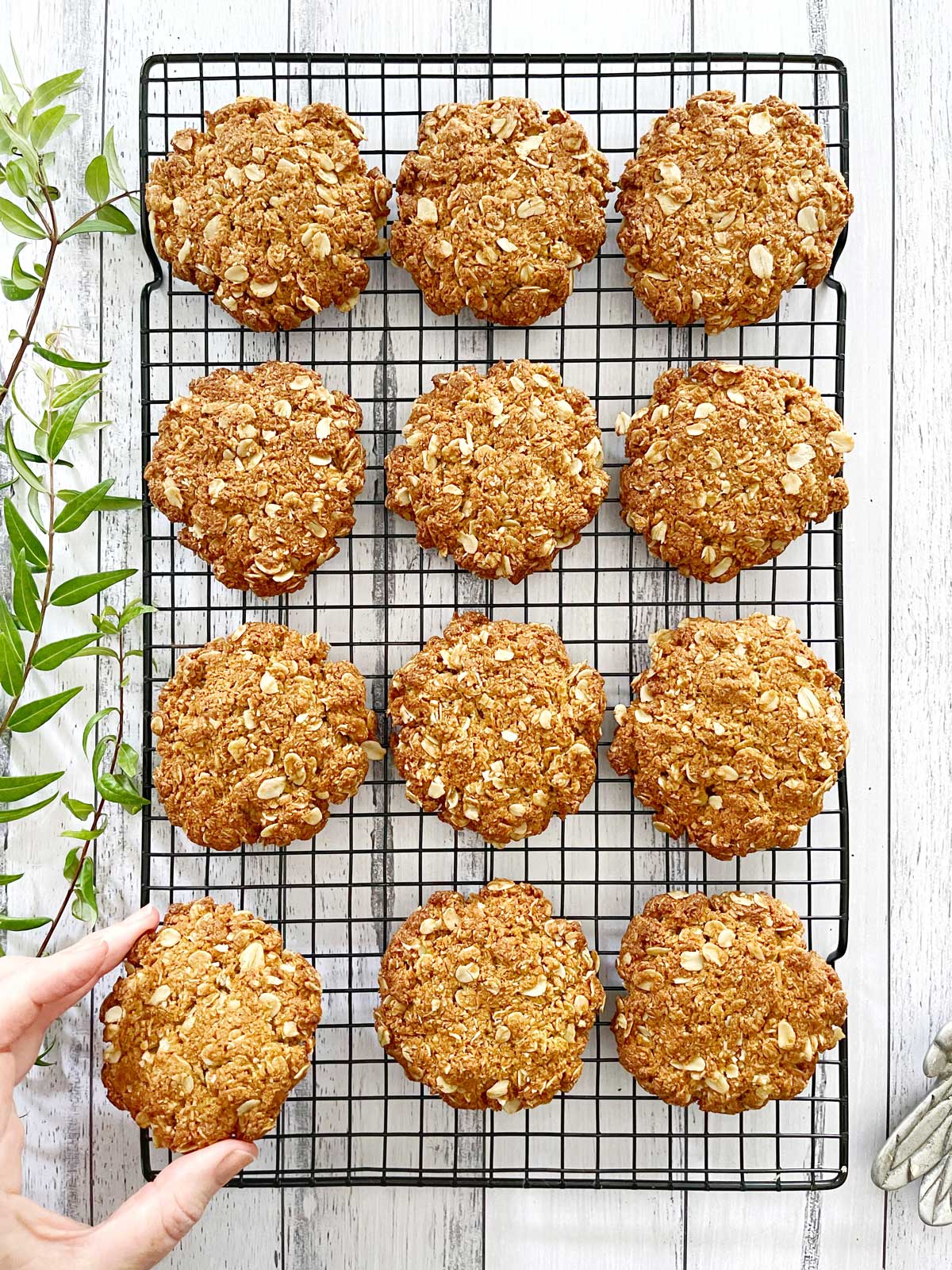 FAQ
My batter is too wet, how do I fix it?
A wet batter can mean your biscuits become chewy, instead of crunchy. You may want this of course if you're team chewy Anzac biscuits, which is fine! But if you want them crunchy, you can add a touch more flour or desiccated coconut to absorb the excess moisture.
My batter is too dry, how do I fix it?
When this happens, the mix is crumby and it's impossible to shape the biscuits. To fix this, add a touch more liquid, either maple syrup, some melted coconut oil or even a little water. Just do it a tablespoon at a time so it doesn't flip the other way and become too wet.
Watch How To Make This Recipe
Anzac biscuits
A delicious, sweet biscuit with hints of caramel, that is used in commemoration of military personnel in Australia and New Zealand who have served in all wars, conflicts, and peacekeeping operations.
Print
Pin
Rate
Ingredients
1.5

cups

rolled oats

1.5

cups

desiccated coconut

½

cup

oat flour

¼

cup

rapadura sugar

(use brown sugar if it's what you have)

100

g

coconut oil

(roughly 1/2 a cup)

½

cup

maple syrup

(can also use honey or golden syrup if this is what you have)

½

tsp

baking soda

1

Tbsp

boiling water
Instructions
Preheat the oven to 170°C (325°F) and line a biscuit tray with baking paper.

Add the rolled oats, desiccated coconut, oat flour, and rapadura sugar to a bowl and mix well to combine.

Melt the coconut oil in a small saucepan over a low heat, then add in the maple syrup and stir to lightly mix it with the oil and warm it. Remove the saucepan from the heat and set aside briefly.

Add the boiling water to the baking soda to dissolve it then add to the oil/maple syrup mix. Stir until it froths up, then immediately add the liquid mix to the bowl with the dry ingredients. Stir well to combine. (see note 1)

Take roughly 2 heaped Tablespoons of the biscuit mix and roll it into a ball. Place on the biscuit tray and flatten with the bottom of a glass or your hands. Repeat until all the biscuit mix has been used.

Place the tray in the oven and cook for 12 to 14 minutes or until the biscuits are golden.

Remove from the oven and allow to cool completely before enjoying!
Notes
Note 1: If the baking soda/water mix doesn't froth up when added to the oil and maple syrup, just put the saucepan back on the heat and stir vigorously to help it along. You can see the frothy action in the quick video above.
Also be sure to check out the notes in the FAQ section in the post above if you find your mix is either too wet or too dry. This will ensure you have biscuit success every time!
These will last for a couple of days in an airtight container, but I'm willing to bet they'll be gone by the end of the day…
Nutrition
Serving:
40
g
|
Calories:
251
kcal
|
Carbohydrates:
26
g
|
Protein:
3
g
|
Fat:
16
g
|
Saturated Fat:
13
g
|
Polyunsaturated Fat:
1
g
|
Monounsaturated Fat:
1
g
|
Sodium:
52
mg
|
Potassium:
126
mg
|
Fiber:
3
g
|
Sugar:
13
g
|
Vitamin C:
1
mg
|
Calcium:
23
mg
|
Iron:
1
mg
Pin This Recipe For Later
Want More Snack Ideas? Take A Look At These!
NEVER MISS A THING!
Follow me on Facebook, Instagram, and Pinterest to keep up to date with all my latest recipes, hints, and tips.