Fermented carrots with garlic, chilli and dill
Fermented carrots are currently my favourite afternoon snack. They're crunchy, a little spicy and keep the afternoon cravings at bay.
This is also an excellent way to preserve those gorgeous little Dutch carrots when in season. That's usually Autumn / Winter in Sydney. I buy tonnes of them and make several jars with a variety of flavours. My favourite is this garlic, chilli and dill version though.
Fermented carrots are good for the gut!
Fermenting foods makes them easier to digest, improves their nutrient content and gives a boost to the beneficial bacteria in our guts.
When we ferment vegetables, like these carrots, it means we are getting both prebiotics and probiotics in the one jar. There's the added benefit of increasing our vegetable intake too.
There are several fermented vegetables now available in supermarkets, but I prefer to make my own. I also encourage others to do the same. Why? Several mass-produced fermented foods are pasteurised for shelf-stability. A process that kills off all the beneficial bacteria we were hoping to obtain. That is by no means all brands of course but purchase with care. One of my preferred brands (no affiliation) that is now widely available is The Fermentary. If you're a Sydneysider like me, you'll also get some incredibly nourishing ferments from Holly Davis.
Wild fermentation
Certain methods of fermentation – such as this recipe – produce a 'wild fermented' end product. That just means they capture the wild lactic acid-producing bacteria found in your environment (or on fruit and veg) to aid the fermentation process. Once captured, the beneficial bacterial strains work away creating the delicious and nutritious end product we then get to eat. Such a magical little process, isn't it?
Fermented foods found in supermarkets will usually have a starter culture added to them. It's a food safety requirement in Australia and is fine of course. However, there is often a wider variety of beneficial bacterial strains in a jar of something wild fermented.
Once you've made this, try some of my other fermented recipes. Miso fermented garlic is definitely a must!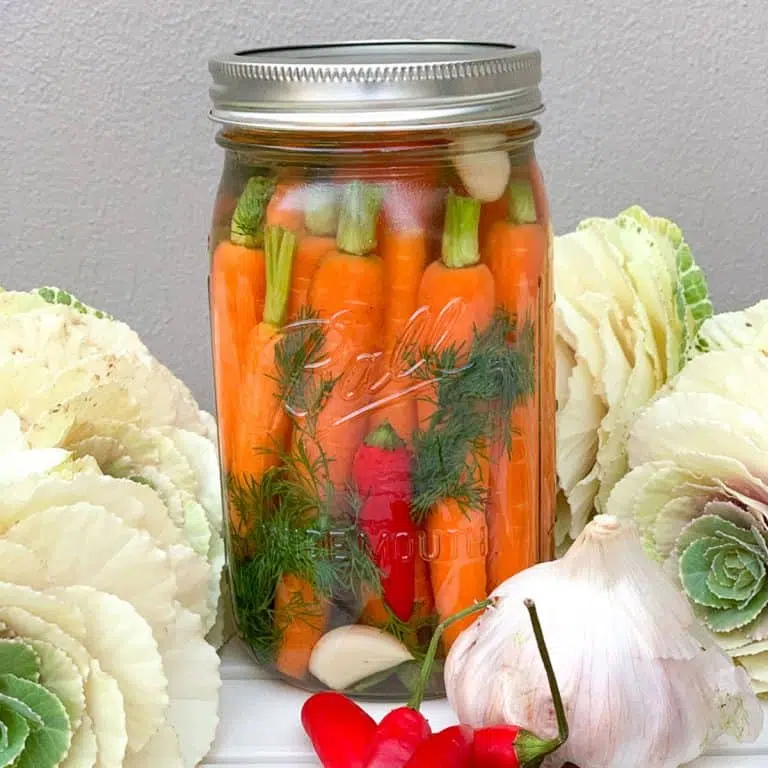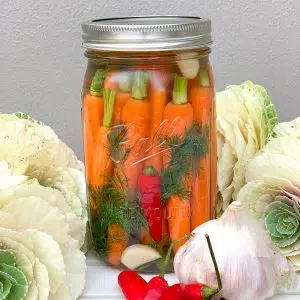 Fermented carrots with garlic, chilli and dill
A quick and easy snack to make that provides an array of beneficial bacteria to help support and improve gut health.
Print
Pin
Rate
Ingredients
2

bunches of dutch carrots

2

cloves

garlic

1-2

small red chillies, pierced

2-3

sprigs of dill

750

ml

filtered water

25

g

sea salt (~1.5 Tbsp)
Instructions
Discard most of the carrot tops leaving a small green stalk (~1cm)

Scrub the carrots and stalks thoroughly to remove all dirt (not being thorough here can affect the fermentation process)

Pack the carrots, garlic cloves, chillies and dill very tightly into your sparkling clean jar. It should be a real struggle to get that last carrot in. This will ensure the vegetables stay submerged under the liquid. I pack some upright and some upside down to make best use of space in the jar

Mix the salt and filtered water together until all the salt has dissolved to make a brine

Pour the salt water brine over the vegetables leaving 2-3cm (~ 1 inch) of headspace at the top. Wipe the rim of the jar clean then put the lid on the jar quite firmly. (If you have any brine left you can keep it in a jar in the fridge for your next fermenting project but be sure to use it up in 2-3 weeks)

Leave the carrots to ferment for 3-4 days on the bench at room temperature. As we're in the middle of Winter this may take a little longer, possibly 5-7 days. They're ready for the fridge when you see that the salt water brine has become effervescent.
Notes
Jars full of fermenting vegetables can get quite a pressure build up so just to ensure no overflow or explosions occur – be sure to 'burp' the jar a couple of times a day. To do this just gently release the lid then tighten it up again until the carrots are ready for the fridge.
Nutrition
Serving:
20
g
|
Calories:
78
kcal
|
Carbohydrates:
18
g
|
Protein:
2
g
|
Fat:
1
g
|
Saturated Fat:
1
g
|
Sodium:
9817
mg
|
Potassium:
535
mg
|
Fiber:
4
g
|
Sugar:
8
g
|
Vitamin A:
20964
IU
|
Vitamin C:
75
mg
|
Calcium:
74
mg
|
Iron:
1
mg
Want more ways to preserve your vegetable bounty? Take a look at these!