This miso tahini dressing drizzled generously over roasted vegetables is probably my favourite meal. It's also a wonderful way to use two very nutrient rich ingredients in your diet.
A bit about tahini…
If you're not familiar with tahini – it's a paste made from ground sesame seeds. It was first referenced in documents roughly 3500 years ago. However, the sesame plant has been cultivated for at least 5000 years for its edible seeds and oil.
A sesame paste of some description is a staple ingredient in many cuisines. It's found in the Middle East, the Mediterranean basin, Asia, and Africa to name but a few. When I think of tahini though – I'll admit I think mostly of Middle Eastern cuisine.
Here in Australia, we have three kinds of tahini to choose from:
Hulled tahini – Has had the hull (or husk/outer shell) removed from the seed before grinding, which makes it creamier and lighter in colour
Unhulled tahini – This still has the hull intact, making it a little more bitter in flavour and darker in colour
Black tahini – Also unhulled. This is made from black sesame seeds that have been roasted and ground, and has a very toasty flavour. Don't let the colour put you off! It does look a bit like tar but it's delicious.
A bit about miso…
Miso too, has a long an interesting back story. Overall, sources vary in their recorded history of miso. That noted, the most common theory seems to be that a miso-like condiment (Hishio) originated in China. Buddhist priests then introduced this to Japan approximately 1,300 years ago.
Historically, using a mixture of soybeans, grains, and salt was a key way to preserve food. This technique is what became the basis of miso making that we know today.
Like tahini there are many different kinds of miso, which you can read more about in my garlic miso recipe.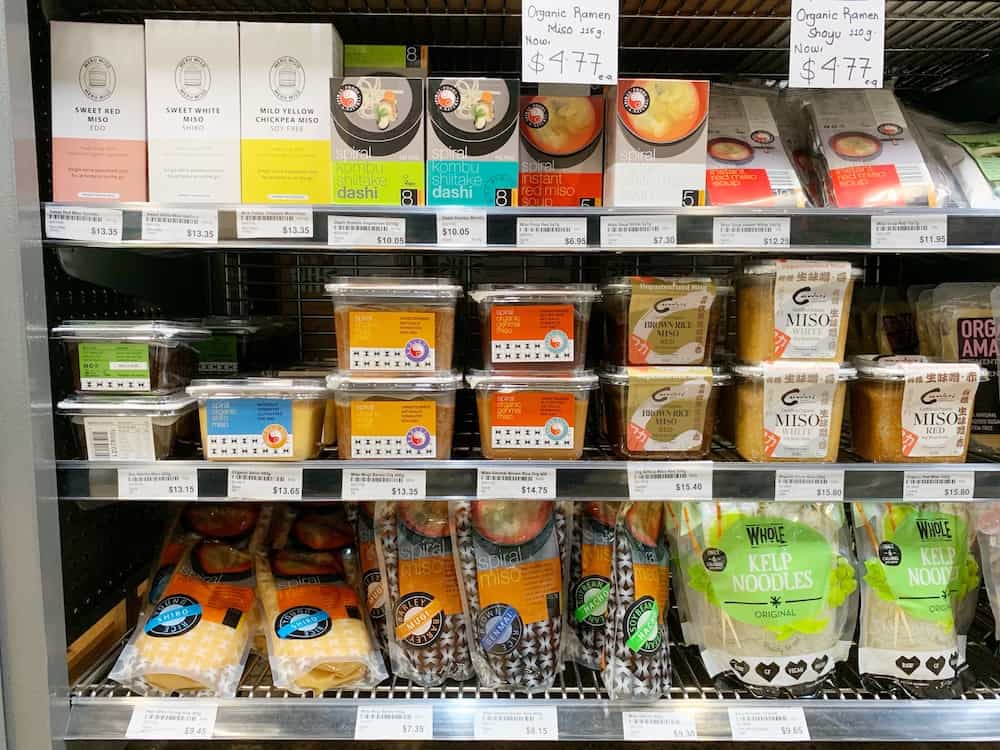 What are the health benefits of miso and tahini?
Miso tahini dressing is very nutrient rich thanks to its two key ingredients. I spoke about those that miso contains previously. The tahini packs a nutritious punch too.
Sesame seeds are rich in protein, good fats, fibre and an array of vitamins and minerals. These include vitamin B1, phosphorous, calcium, iron, magnesium, zinc and several other micronutrients. Additionally, they contain beneficial fibres called lignans, which are known for their cholesterol lowering effects.
At first glance of a nutrition panel unhulled tahini seems to be the richest source of several of those nutrients. However, when the seed's hull remains intact (such as in unhulled tahini) we also find oxalic acid, and phytic acid in trace amounts. These are substances that can inhibit the absorption of minerals – particularly the calcium in this instance. In addition, they're what gives the unhulled varieties their bitter taste.
So, whilst unhulled tahini appears to be the best choice, the binding of minerals means hulled is better. The mineral content may be much smaller but it is all bioavailable meaning – our bodies can use it.
I have read that combining unhulled tahini with oil can counter the mineral binding effects of oxalates and phytates. This occurs as a result of the oil binding to free radicals. There are no studies that substantiate this claim – but when we look to a traditional tahini sauce recipe it might make sense. The recipe contains tahini, oil, lemon juice, garlic and salt. Without knowing for certain I would still be going for the hulled variety overall.
That being said – sometimes we do choose things for flavour and there may be an instance in which you'd prefer the unhulled. That's completely fine! I'd just say for day to day use and increased nutritional value – go with the hulled variety.
What is this miso tahini dressing best served with?
I love to drizzle this over Buddha bowls, a brown rice salad or as I mentioned straight up – over roasted vegetables. It has a rich and hearty flavour, which pairs perfectly with earthy foods. Think about things like root vegetables, brown or black rice, radishes, dark green leafy veg etc.

Once made, if you haven't used it all you can keep the dressing in the fridge for up to a week. If you think you'll use it lots, make a double batch so you can continue to enjoy it for days.
Miso tahini dressing
A very versatile and nutrient rich dressing that will add a tonne of flavour to many a meal.
Print
Pin
Rate
Equipment
Medium-sized bowl

Whisk or spoon to stir
Ingredients
1.5

Tbsp

garlic miso

1

Tbsp

tahini, hulled

1.5

Tbsp

lemon juice

1

tsp

ginger, peeled and grated

½

Tbsp

water,

or enough to make it easy to pour over your meal
Instructions
Add the garlic miso, tahini, lemon juice, ginger and water in a bowl then whisk to combine

Pour over salads, Buddha bowls, or roasted vegetables. Will keep in the fridge for up to one week.
Notes
If you don't have garlic miso prepared this can simply be made with a white miso with 1/2 to 1 clove of crushed garlic also mixed in. I would leave the dressing to sit for at least 30mins to one hour to let the flavours meld together.
Nutrition
Serving:
30
g
|
Calories:
145
kcal
|
Carbohydrates:
12
g
|
Protein:
6
g
|
Fat:
10
g
|
Saturated Fat:
1
g
|
Sodium:
957
mg
|
Potassium:
122
mg
|
Fiber:
2
g
|
Sugar:
2
g
|
Vitamin C:
9
mg
|
Calcium:
36
mg
|
Iron:
1
mg