This miso tahini dressing is quick and easy to make. Drizzled generously over roasted vegetables is probably my favourite way to enjoy it too. However, it's very versatile and it's also a wonderful way to use two very nutrient rich ingredients.
A Bit About Tahini
If you're not familiar with tahini – it's a paste made from ground sesame seeds. It was first referenced in documents roughly 3500 years ago. However, the sesame plant has been cultivated for at least 5000 years for its edible seeds and oil.
A sesame paste of some description is a staple ingredient in many cuisines. It's found in the Middle East, the Mediterranean basin, Asia, and Africa to name but a few. When I think of tahini though – I'll admit I think mostly of Middle Eastern cuisine.
Here in Australia, we have three kinds of tahini to choose from:
Hulled tahini – Has had the hull (or husk/outer shell) removed from the seed before grinding, which makes it creamier and lighter in colour.
Unhulled tahini – This still has the hull intact, making it more bitter in flavour and darker in colour.
Black tahini – Also unhulled. This is made from black sesame seeds that have been roasted and ground and has a very toasty flavour. Don't let the colour put you off! It does look a bit like tar but it's delicious.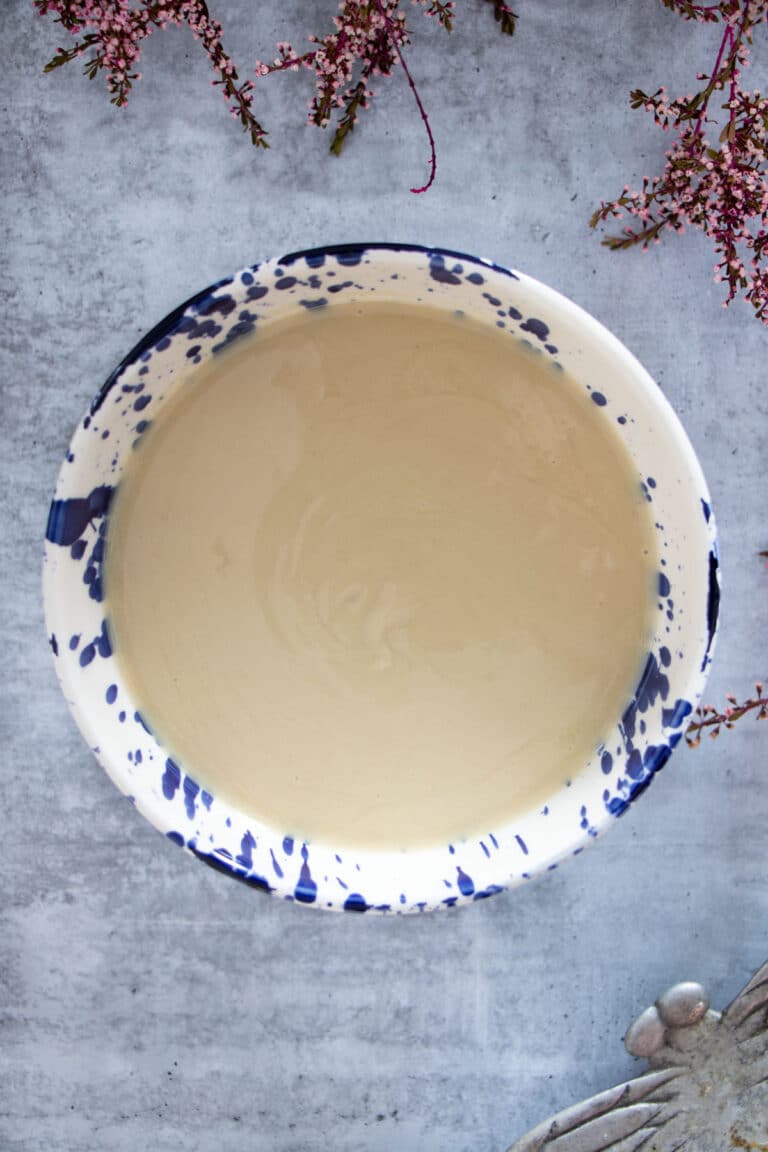 A Bit About Miso
Miso too, has a long an interesting history though sources vary in their recorded history of it. That noted, the most common theory seems to be that a miso-like condiment (Hishio) originated in China. Buddhist priests then introduced this to Japan approximately 1,300 years ago.
Historically, using a mixture of soybeans, grains, and salt was a key way to preserve food. This technique is what became the basis of miso making that we know today.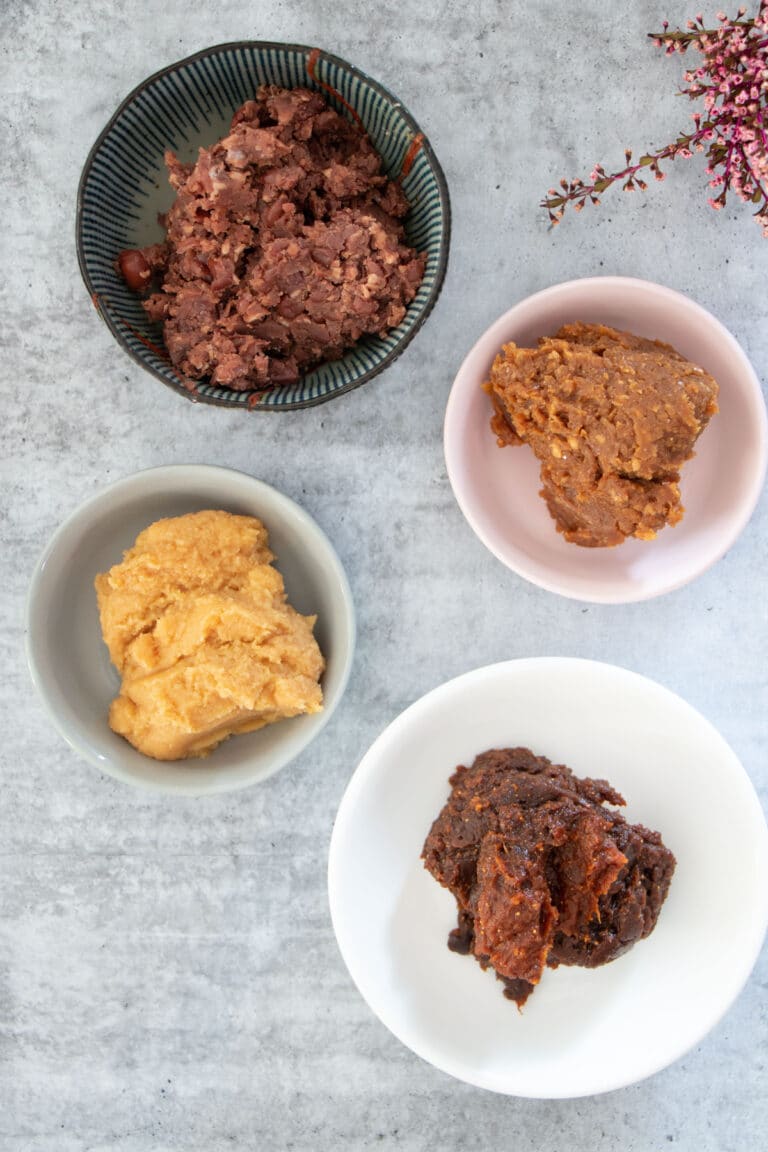 Like tahini there are many different kinds of miso, which you can read more about in my garlic miso recipe post.
Ingredients For Miso Tahini Dressing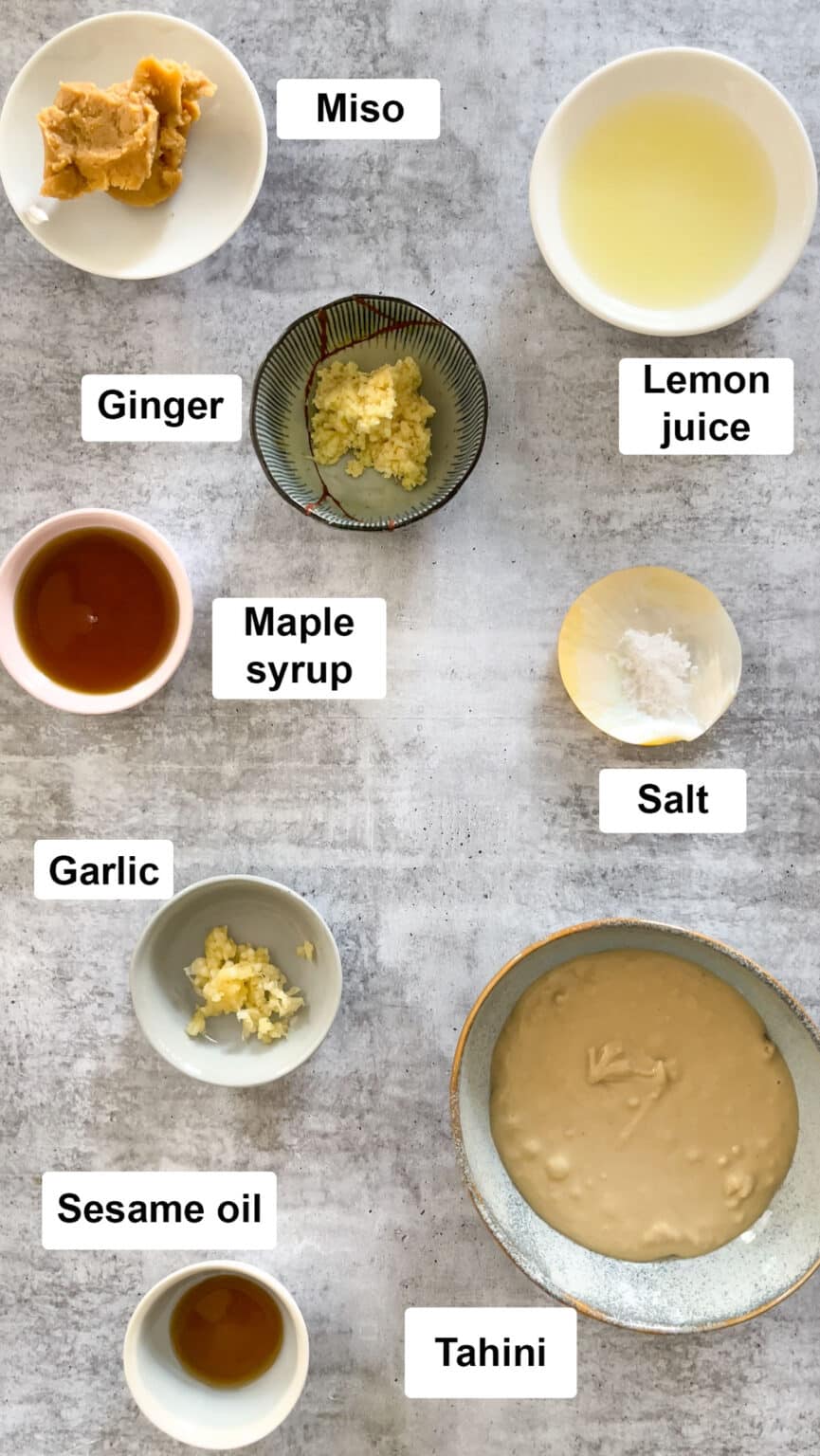 White miso – this adds a mildly umami flavour to the dressing. If you're not familiar with miso you can find out more about it in my garlic miso recipe post.
Hulled tahini – when shopping you'll see both hulled and unhulled tahini on the shelf. Hulled is what you want to go with, as it's far less bitter. You'll also retain more nutrients using this kind. There's more on why in the FAQ below.
Lemon juice – this is adding a bit of tang to the dressing but also helps to make it pourable. Tahini is very thick, so it definitely needs the addition of liquids here.
Ginger – This provides a hint of warmth and spice to the dressing. A perfect match for the miso and tahini.
Garlic – This could be optional if you're not a garlic fan, but it does bring pungency to the dressing, which I think balances the other ingredients. Just be sure to use a small clove, or garlic is all you're going to taste.
Maple syrup – This adds some sweetness to the dressing to lighten it up a touch.
Toasted sesame oil – This has a deep, rich and nutty flavour that takes this dressing to the next level. All the ingredients used here are earthy to me – but the sesame oil really binds and grounds them.
A small amount of water is also added but just enough to get the consistency you're after in the dressing. It should be thick but pourable and really stick to whatever you're adding it to. You don't want to completely water down the taste so add it sparingly.
How To Make This Dressing
You can mix all of this by hand, toss it all into a blender or use a stick blender. It will work out just fine however you choose to do it. I've gone with mixing it by hand because I enjoy watching it come together.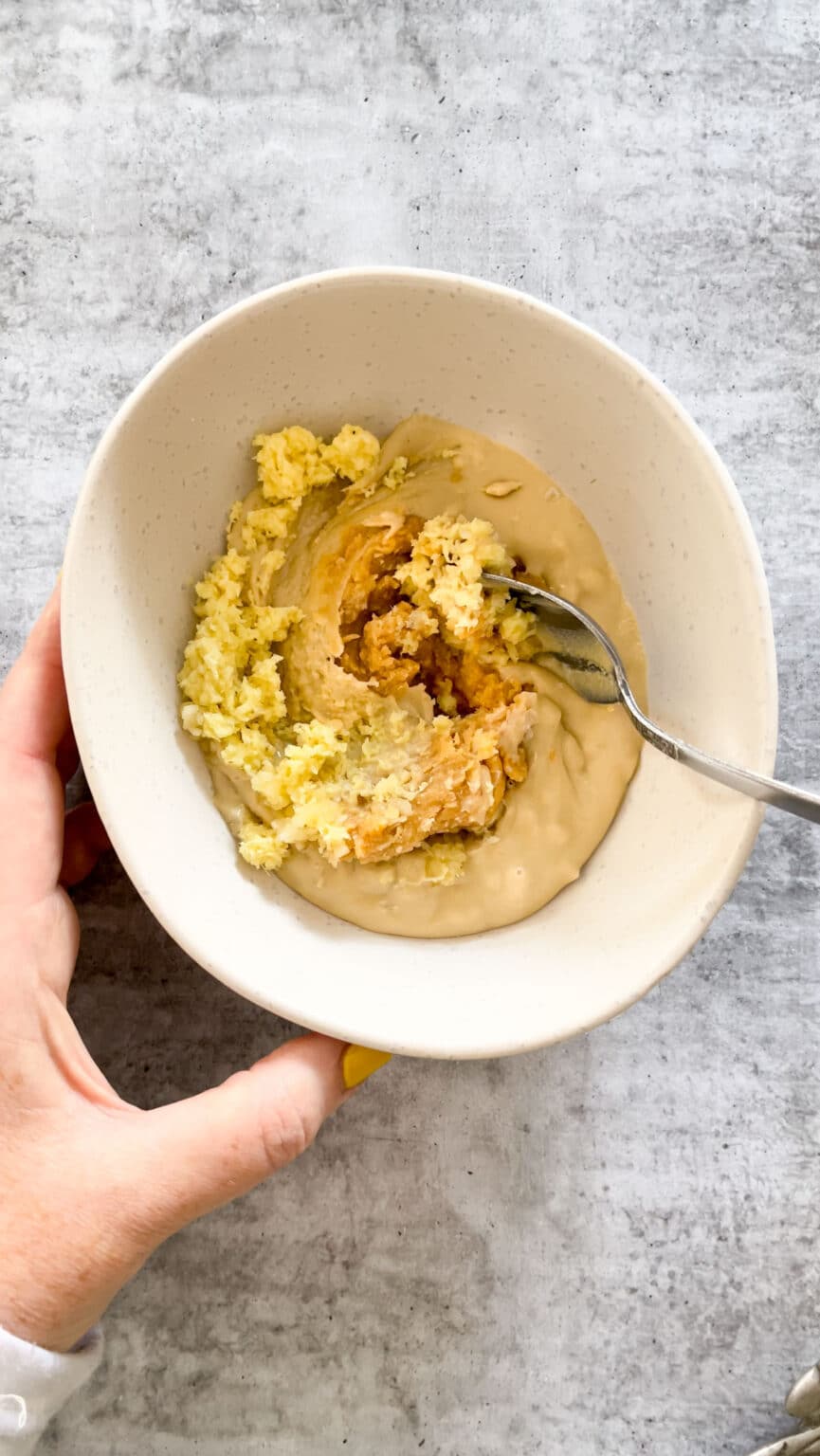 Add the miso, tahini, garlic and ginger to a bowl then mix to combine.
Next add in the lemon juice, maple syrup, sesame oil, some water and salt, and whisk until all ingredients are combined well and you have a slightly thick but pourable dressing.
If the dressing is still too thick for your liking, add more water (just a little at a time) until it reaches the consistency you're after.
To serve – pour over salads, roasted vegetables or slow cooked meats.
Once made, if you haven't used it all you can keep the dressing in the fridge for a week or two.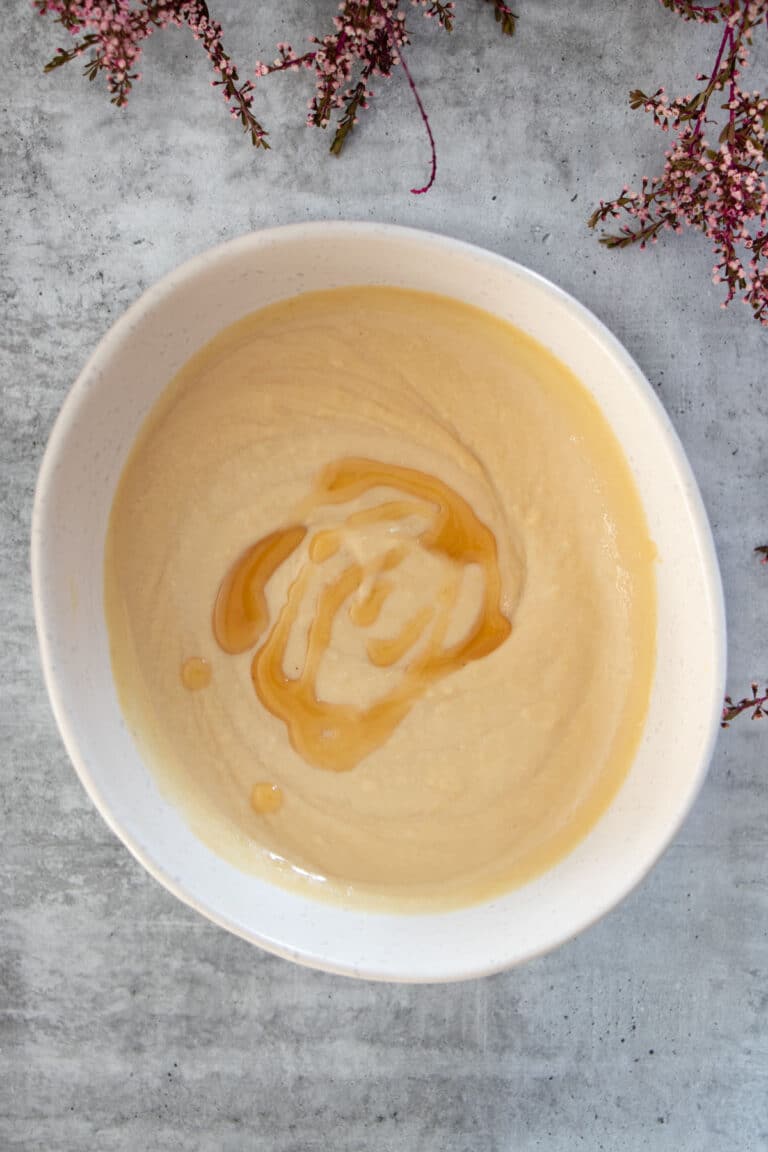 FAQ
What's the difference between tahini and miso?
Their main differences are the base ingredients and of course, taste. Tahini is made from ground sesame seeds and is quite nutty in flavour. Miso is made from cooked legumes (soybeans, chickpeas etc.) that are fermented with koji for months to years. Its flavour depends on the legumes used but it tends to have a very savoury or earthy/umami flavour.
What can I serve this miso tahini dressing with?
I love to drizzle this over big bowls of salad or baked veg. It has a rich and hearty flavour, which pairs perfectly with earthy foods. Think about things like root vegetables, brown or black rice, radishes, dark green leafy veg etc.
Why is tahini good for you?
Tahini packs a nutritious punch with thanks to its base ingredient – sesame seeds. They're rich in protein, good fats, an array of vitamins and minerals (like calcium!). They're also full of fibre in the form of lignans, which are known for their cholesterol lowering effects.
Should I buy hulled or unhulled tahini?
Hulled tahini – and here's why. In unhulled tahini, the seed's hull remains intact, and it contains oxalic acid as well as phytic acid in trace amounts. These substances not only give the tahini a bitter taste, but they also inhibit the absorption of minerals – particularly the calcium, which tahini is well-known for. Given we want to enjoy the benefits of all those lovely nutrients mentioned above, hulled tahini is what you want to go for.
Watch How To Make This Miso Tahini Dressing
Miso Tahini Dressing
This miso tahini dressing is quick and easy to make. It's also very versatile and goes well with baked veg, salads, or slow cooked meats. Recipe video is above!
Print
Pin
Rate
Equipment
Medium-sized bowl

Whisk or spoon to stir
Ingredients
1/2

cup

hulled tahini

3

Tbsp

lemon juice

2

Tbsp

white miso

2

Tbsp

maple syrup

2-3

Tbsp

water

or enough to make the dressing pourable

1

Tbsp

ginger

peeled and grated

1

small clove

garlic

crushed

2

tsp

toasted sesame oil

Pinch

salt
Instructions
Next add in the lemon juice, maple syrup, sesame oil, 2 tablespoons of water and salt then whisk it all together until it reaches your desired consistency. If you find the dressing is still not pourable – add in the extra tablespoon of water and mix again.

To serve, pour over salads, or roasted vegetables. It's also a great match for slow roasted meats.

This will keep in the fridge for a week or two.
Notes
If you've made some previously, you could use garlic miso in place of the white miso. If you do, just leave out the garlic clove in the recipe because you won't need it.
You can continue to add water until you get the consistency of dressing you desire but taste as you go to ensure you don't water it down significantly.
Nutrition
Serving:
30
g
|
Calories:
244
kcal
|
Carbohydrates:
17
g
|
Protein:
6
g
|
Fat:
18
g
|
Saturated Fat:
3
g
|
Polyunsaturated Fat:
8
g
|
Monounsaturated Fat:
7
g
|
Sodium:
329
mg
|
Potassium:
200
mg
|
Fiber:
2
g
|
Sugar:
7
g
|
Vitamin A:
28
IU
|
Vitamin C:
6
mg
|
Calcium:
61
mg
|
Iron:
2
mg
Pin This Recipe For Later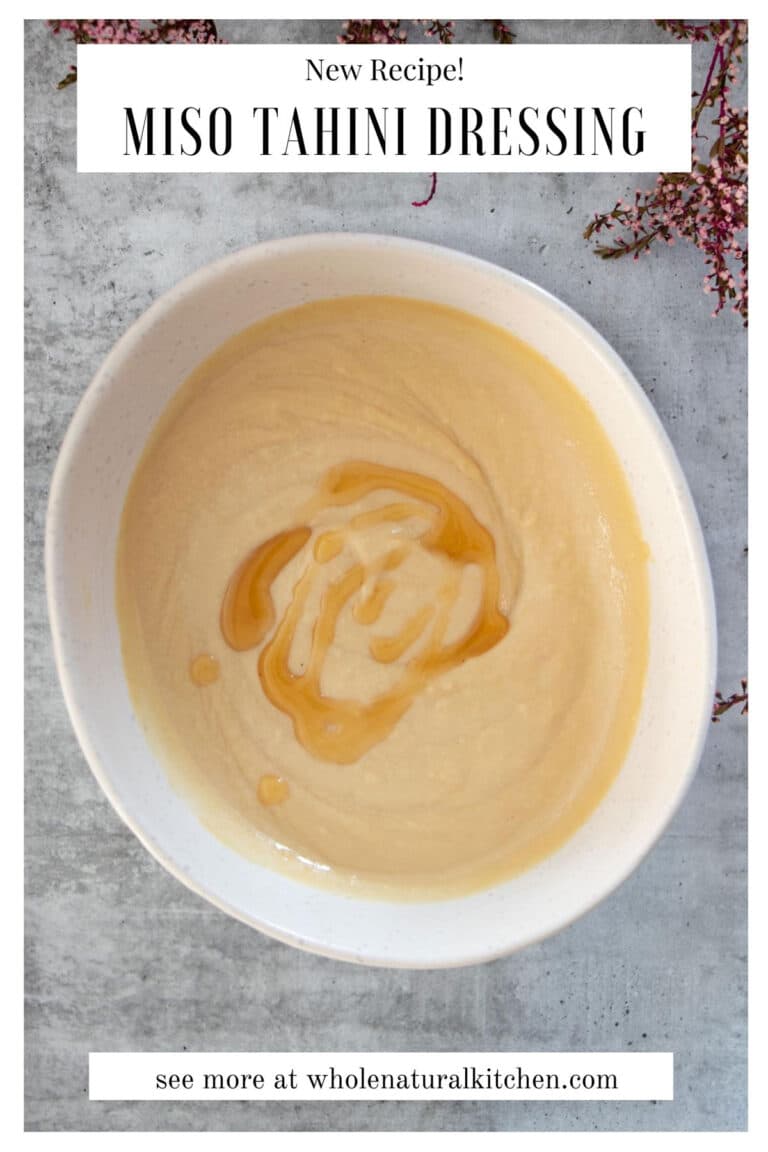 Want More Ideas For Dressings And Sauces? Take A Look At These!
NEVER MISS A THING!
Follow me on Facebook, Instagram, and Pinterest to keep up to date with all my latest recipes, hints, and tips.