Gluten free sourdough pancakes
Gluten-free sourdough pancakes for breakfast are an absolute treat, and one your gut will love too.
You wouldn't normally associate pancakes with being a good gut food but once you introduce a little fermented sourdough starter, they sure are. Keeping in mind, we want equally wholesome toppings of course.
What is sourdough?
Sourdough is exactly as it sounds…. a soured dough that is then used to make any number of dough-based products, most often sourdough bread. Sourdough occurs as a result of a fermentation process using naturally occurring lactobacilli and yeast. It's a process / product that dates back to at least 3500 BCE if not beyond too. Isn't that incredible?!
Sourdough is nothing more than a mix of flour, water and a little of an already active sourdough starter to kickstart the fermentation process. If you don't have any sourdough starter, just ask around. I can guarantee someone you know will have some.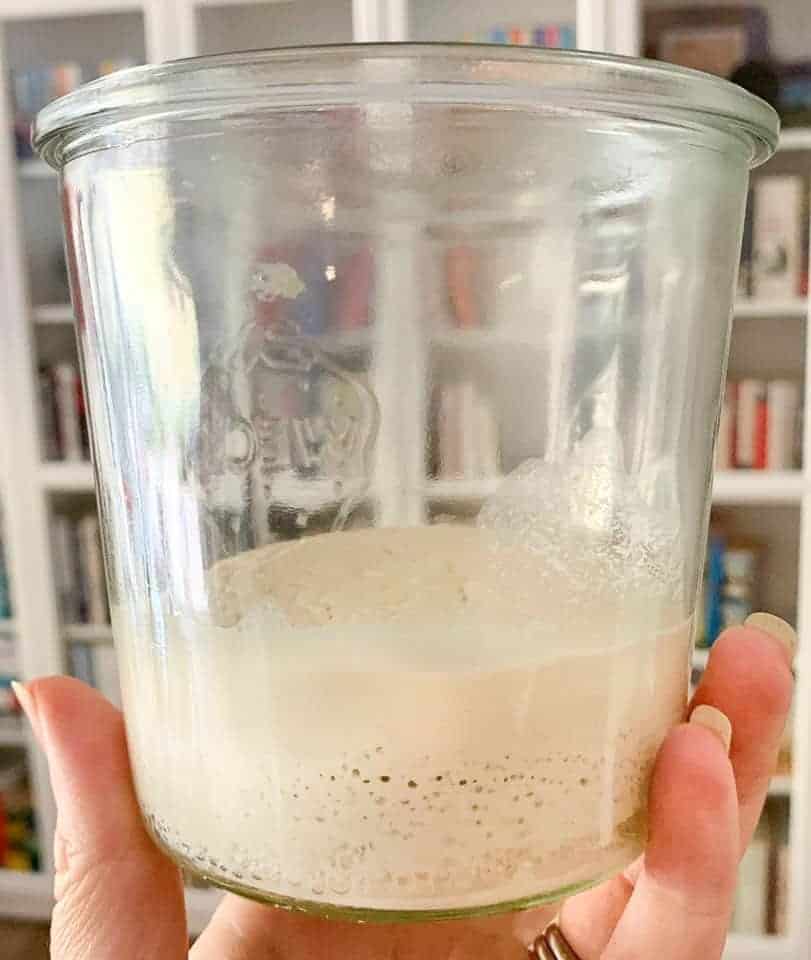 If by chance you can't locate any though – creating your own is so very simple. Check out this recipe here to get yours going. If you are following this recipe I really recommend using brown rice flour. It makes a fabulous gluten free sourdough starter.
What's so great about sourdough?
Due to the fermentation process, sourdough makes it easier for us to digest and absorb more of the nutrients the flour contains. Depending on the flour chosen this might include magnesium, iron, zinc and B vitamins along with an array of antioxidants. This is why it's always important to start with the best possible ingredients. Good ingredients = more nutrients.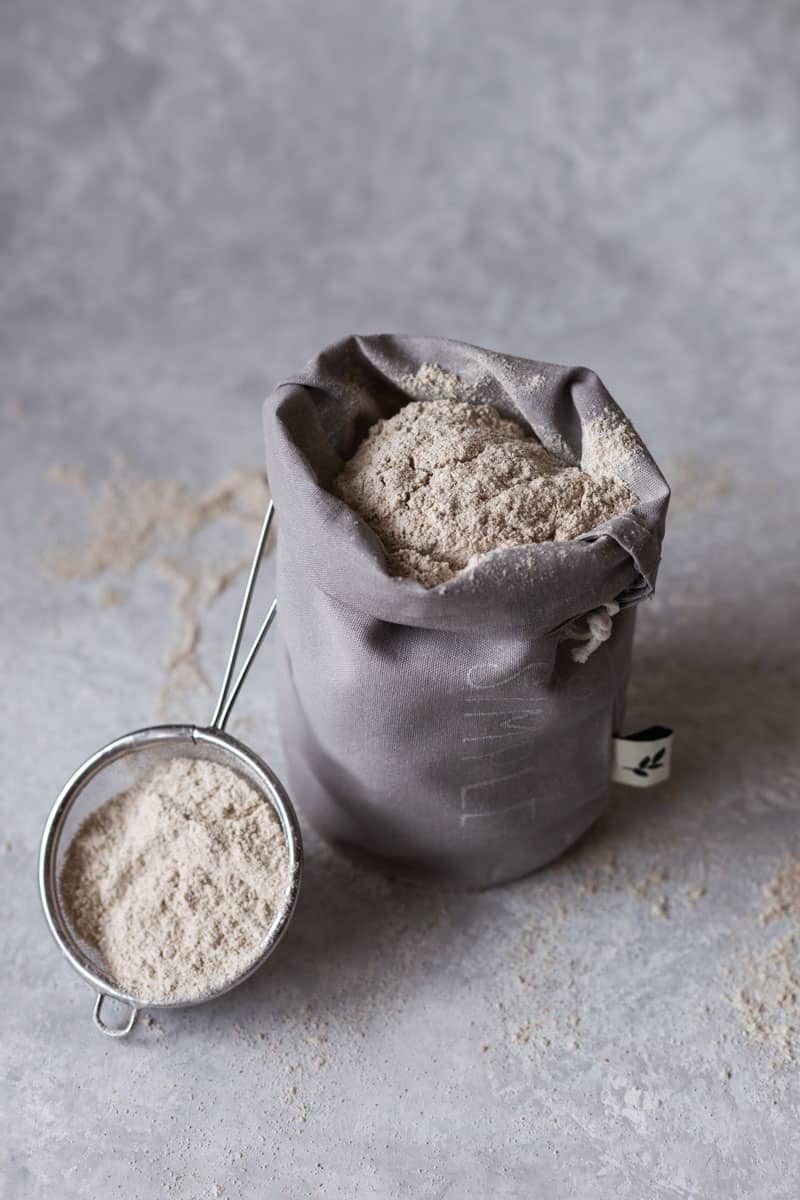 It's also quite possible that someone who is gluten intolerant will be fine with sourdough. This is because as the dough ferments, the gluten is broken down and partially digested, which makes it easier on the gut. I'm always pleasantly surprised by how many people can tolerate sourdough once they swap to it from supermarket breads. That being said, it definitely doesn't work for everyone, and you will know best about that for you.
If you are looking to stay clear of gluten, you can take comfort in knowing you can avoid it and still have wholesome pancakes using this recipe too. I've fed these to so many people now and not one of them had any clue they were gluten free. And if you keep your starter going, you can also use it to make gluten free waffles, pizzas and breads!
In the meantime though, I hope you enjoy these. And if you're after more gluten free recipes, check out my gluten free archives.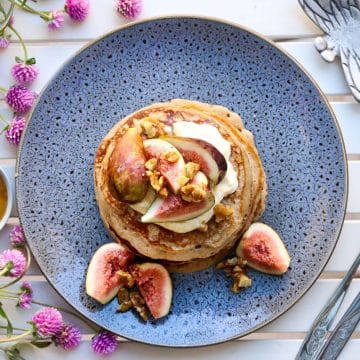 Gluten free sourdough pancakes
A delicious, gut-friendly breakfast!
Print
Pin
Rate
Ingredients
½

cup

active brown rice sourdough starter

½

cup

buckwheat flour

¼

cup

almond milk (or your milk of choice)

2

free range eggs

2

Tbsp

maple syrup (or 1 Tbsp honey)

1

tsp

vanilla essence

1

tsp

gluten free baking powder

¼

tsp

baking soda

¼

tsp

sea salt

Ghee for frying (or your fat of choice)

Toppings of choice – I used coconut yoghurt, walnuts and fresh figs here.
Instructions
Combine all the wet ingredients (except for the ghee) in a large bowl and mix well

Add in the buckwheat flour, baking powder, baking soda and salt then stir again until the mix forms a batter with a runny consistency

Heat a frying pan over medium heat and add a little ghee to coat the pan – you'll need to add a little ghee before each pancake is cooked

Add a ladle of batter to the pan (approx. 1/4 cup for each pancake). When the surface starts to bubble and the edges have firmed up (about 1-2 minutes), flip and cook the other side until golden brown

Set each pancake aside as it's cooked and keep warm until they're ready to serve
Notes
Other suggested toppings:
Nut butter with berries, coconut yoghurt and honey
Peanut butter with banana, cacao nibs, melted organic dark chocolate and goji berries
Goat's cheese with pan-fried prosciutto and pesto for something savoury and completely different
Do you have another favourite topping combo? Let me know in the comments.
Nutrition
Calories:
285
kcal
|
Carbohydrates:
48
g
|
Protein:
11
g
|
Fat:
6
g
|
Saturated Fat:
2
g
|
Trans Fat:
1
g
|
Cholesterol:
164
mg
|
Sodium:
749
mg
|
Potassium:
282
mg
|
Fiber:
4
g
|
Sugar:
13
g
|
Vitamin A:
238
IU
|
Calcium:
214
mg
|
Iron:
2
mg
WANT MORE FERMENTATION IDEAS? TAKE A LOOK AT THESE!
NEVER MISS A THING!
Follow me on Facebook, Instagram, and Pinterest to keep up to date with all my latest recipes, hints, and tips.