When you think of grabbing a snack, does it include some delicious vegetable offering like these cheesy miso kale chips? Or do you tend to go more for something quick that needs no prep? Say, biscuits, an energy bar or the like. If it's the latter, you're not alone.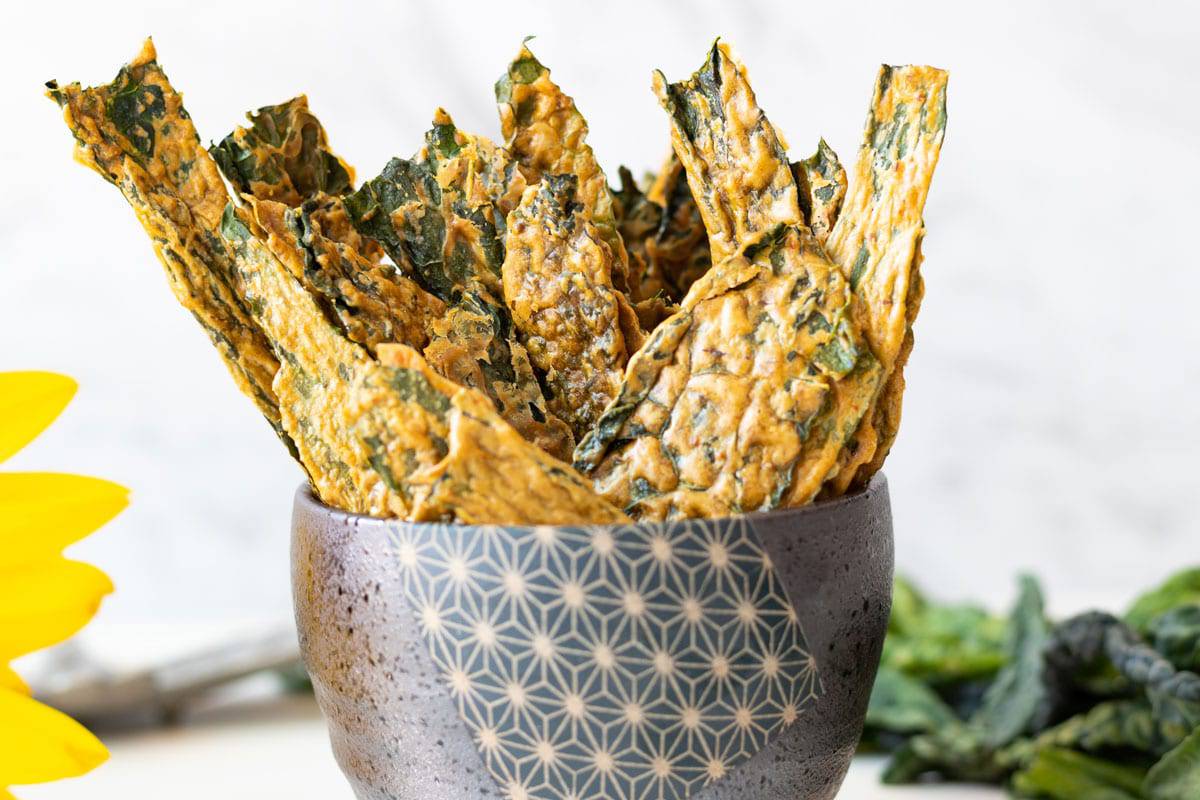 We forget that vegetables make great snacks.
I've mentioned this before, but less than 7% of the adult population in Australia meet their vegetable intake each day. It's not much different on a global scale either. That's a HUGE number of people who aren't even coming close to the vegetable intake they should be having for good health.
I see it frequently in my clinic when reviewing diets. I would say the average is somewhere between 2 – 3 vegetable servings daily. Our dietary guidelines say 5 – 6 are necessary for basic health. However, more recent research has shown it's roughly 9 – 10 serves of vegetables a day that we need for good health.
When people list off snacks for me, vegetables are very rarely there. Most often it's nuts, muesli bars, biscuits, chocolate, maybe fruit and a little yoghurt. We then also find there are no vegetables at breakfast either, which leaves lunch and dinner to squash it all in. Not always achievable given the volume you need, which is how we arrive at 2-3 serves being the average.
Cheesy miso kale chips increase veg intake
I'm not even kidding. How good is it to hear that chips can do that for you?! Half a cup of cooked vegetables will give you one vegetable serving. Depending on the size of the kale bunch you have, this recipe will yield about two serves per person. You also have the added nutritional benefit of the other ingredients too. The tahini will give you a lovely dose of minerals and you'll get a vitamin B boost from the nutritional yeast. So many reasons to make yourself a batch on the regular.
Ever grown your own kale?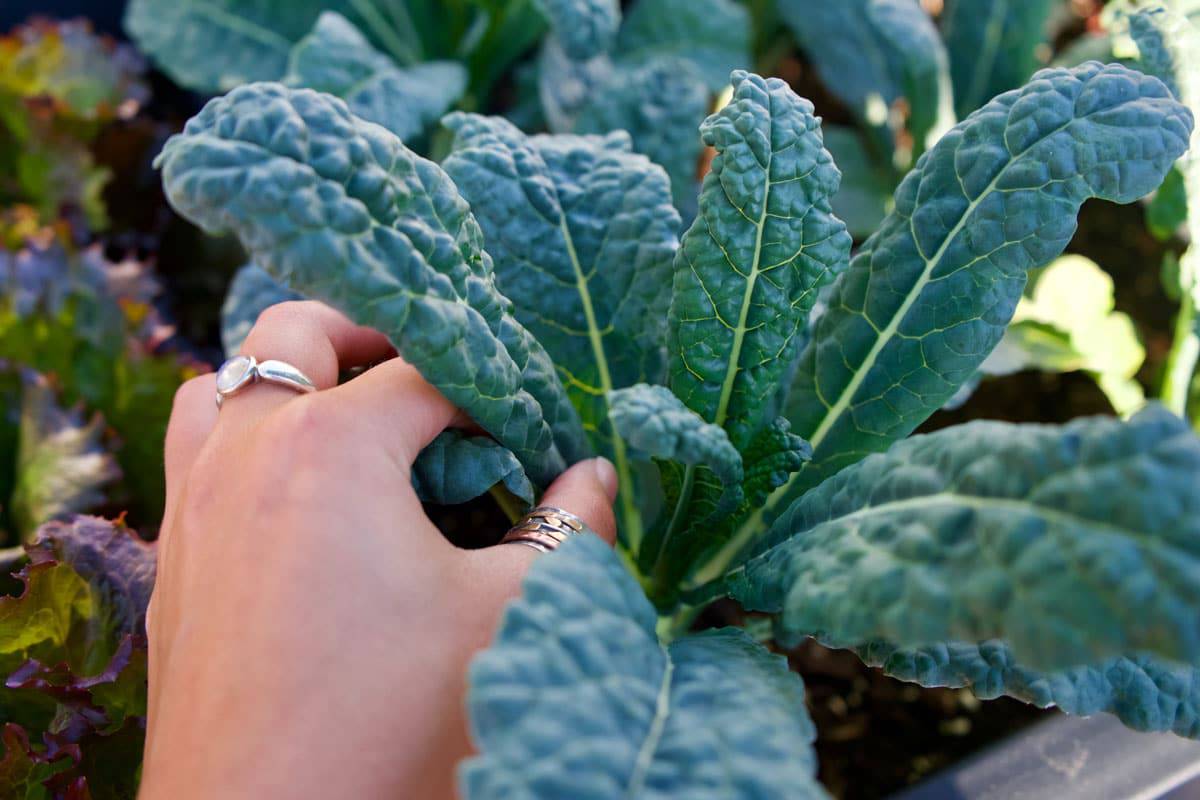 I've found kale to be one of the easiest veg to grow in my balcony garden. It does just fine in pots or my Vegepods and doesn't require a lot of space. It's a no fuss plant that is incredibly nutrient dense. You do have to keep an eye on it though because the aphids love it and it can succumb to their attack quite easily.
Kale is a shallow rooted plant so keeping the soil protected is important. With that in mind do make sure you mulch around it once it's in a pot or your garden bed. In the Southern states of Australia, this is one to harvest throughout Winter and early Spring.
I've mentioned using garlic infused miso in this recipe, which is something you'll need to have made well in advance. If you don't have it on hand though white/shiro miso will also be perfectly delicious.
Cheesy miso kale chips
A delicious little snack that will help increase your daily veg intake.
Print
Pin
Rate
Ingredients
1

small bunch

kale,

washed

1

Tbsp

garlic infused miso (20ml).

White/shiro miso is also fine to use.

4

Tbsp

hulled tahini (80ml)

4

Tbsp

water (80ml)

1/3

cup

nutritional yeast
Instructions
Preheat the oven to 50 degrees Celsius (120 F) and line two baking trays with baking paper

Wash the kale then cut the leaves away from the thick stems, leaving you with two leaves per stem. I then cut bigger leaves in half again but left the smaller ones as is. The stems can go into the compost

Mix the garlic infused miso (or white/shiro miso), tahini, water and nutritional yeast into a slightly runny paste

Rub the paste all over the kale leaves and put them on the lined baking sheets in a single row, not overlapping each other

Bake for 60 minutes (see notes below), turn the chips over and bake for another 15 minutes. Allow to cool slightly before digging in!
Notes
The cooking time is going to vary greatly depending on how thick your layer of paste is. I would check at 30 minutes and flip then if they're starting to feel crisp. Continue to check every 10 minutes thereafter. You want the paste to be dry and the chips to be crips.
If you have any paste left over you can keep it in the fridge and use it to make more kale chips within the week. You might just want to add a little more water to it before re-using as it can thicken up when chilled.
Nutrition
Calories:
254
kcal
|
Carbohydrates:
17
g
|
Protein:
13
g
|
Fat:
17
g
|
Saturated Fat:
2
g
|
Sodium:
354
mg
|
Potassium:
621
mg
|
Fiber:
4
g
|
Sugar:
1
g
|
Vitamin A:
6494
IU
|
Vitamin C:
79
mg
|
Calcium:
140
mg
|
Iron:
3
mg
WANT MORE APPETISER RECIPES? TAKE A LOOK AT THESE!
NEVER MISS A THING!
Follow me on Facebook, Instagram, and Pinterest to keep up to date with all my latest recipes, hints, and tips.