Jun tea – Blueberry & lime
In a recent post I went through the steps on how to make jun tea. As a recap – Jun is an effervescent, probiotic-rich drink that's worthy of inclusion in your daily diet. I enjoy my glass out in the balcony garden each afternoon while I work.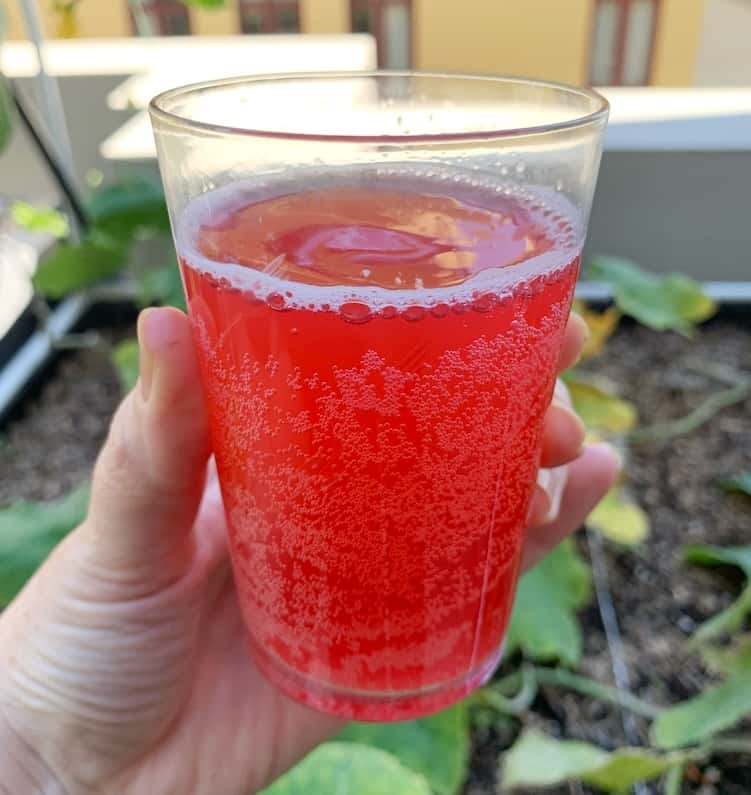 Why do a second fermentation of jun tea?
You certainly don't have to, and if you'd prefer, you can start drinking your jun straight away. A second fermentation though, is a great way to increase the carbonation. You can also increase its nutrient content dependent on the additional ingredients you add in. And of course, you have the opportunity to build the flavour profile to suit your preferred tastes.
Is it easy to do?
Yep, it is! A second fermentation just means bottling up your mature jun with added flavours. It's left on the bench again for 1-2 days at room temperature and the fermentation process continues. The SCOBY isn't needed this time because the mature tea has been enriched by the probiotic bacteria.
When doing your second fermentation there is really only one step:
Combine your mature jun from a previous batch, blueberries and lime into a large glass bottle, put the lid on and leave to ferment. So simple!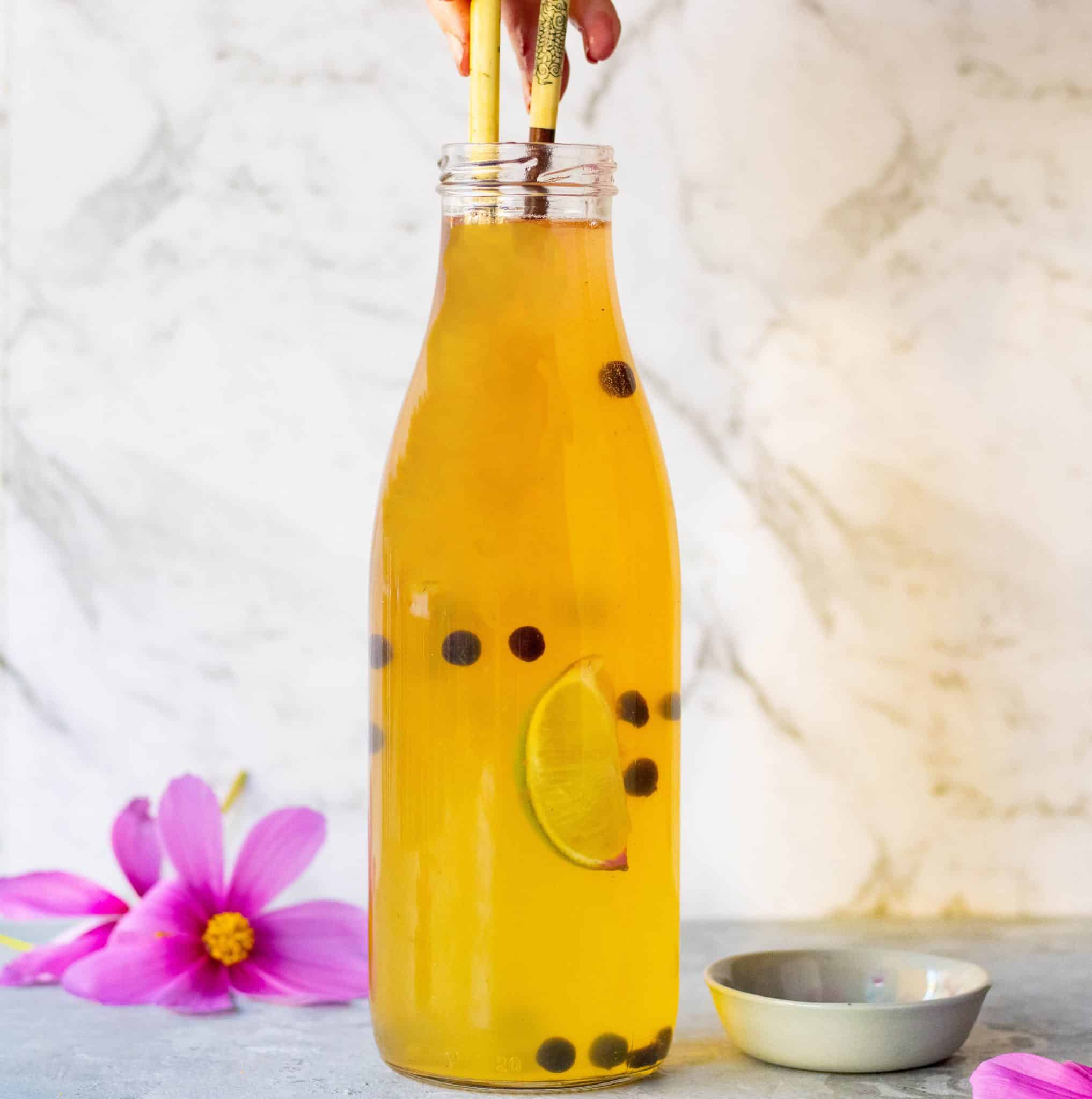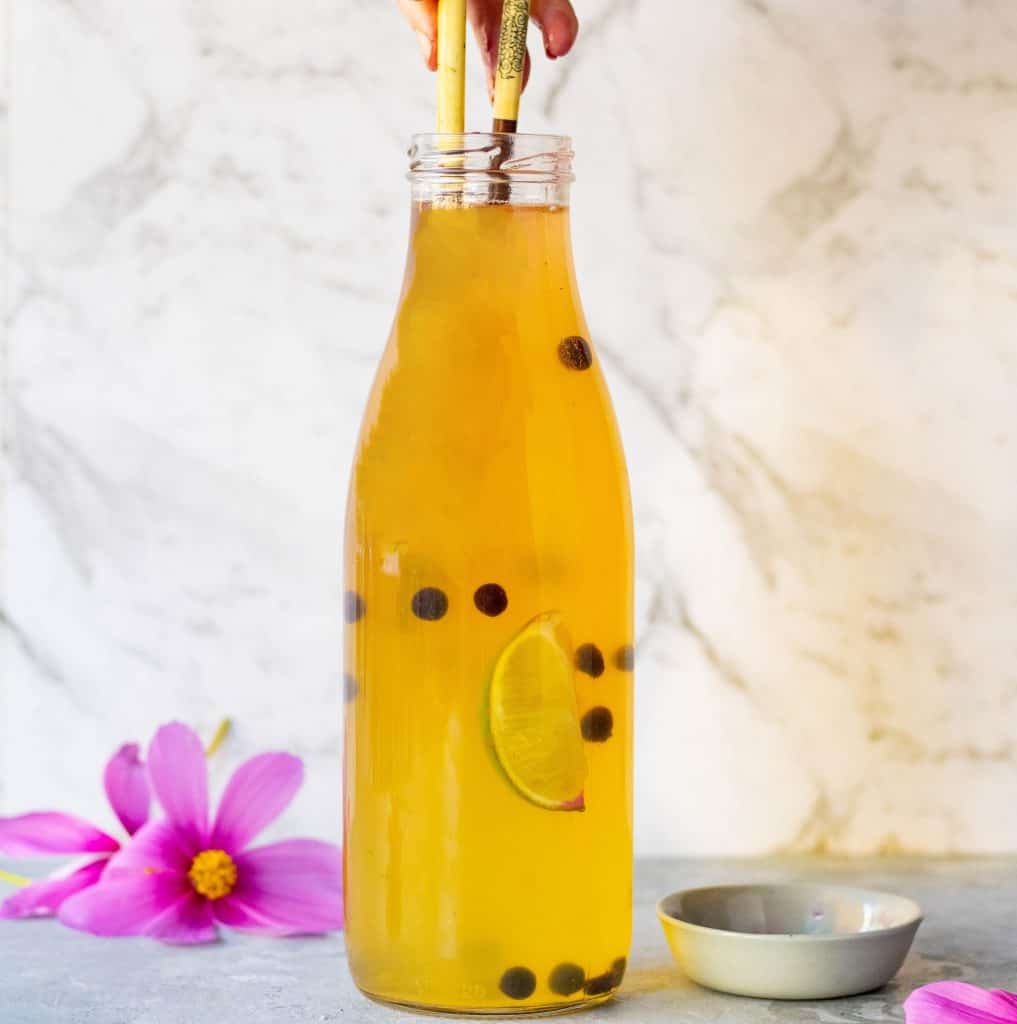 Aside from the taste of blueberry and lime, I absolutely love the colour these ingredients produce. It's so rich and vibrant! Remember though – the flavour combinations are endless so let your imagination run wild in the kitchen.
A little note on safety
A second fermentation jun can become very effervescent. There are a couple of important things to remember here because of that:
Use appropriate fermentation bottles. This is necessary because the glass is much thicker and unlikely to explode under the pressure build-up.
Make sure you 'burp' the bottles carefully each day. This just means slowly open the lid so you don't get a jun fountain spurting up to ruin your ceiling paint. Ask me how I know about that…..
Another tip is to store your bottles inside a cardboard box and close it up each night. Should a bottle explode it will at least be contained there.
There have definitely been cases of exploding bottles (of many fermented drinks) so do ensure you get yourself some good ones. Particularly so if you're in a warmer climate where fermentation can happen much more quickly. Great bottles can be bought relatively cheaply from any home brew type store or online through places like Ozfarmer.
If all of that has freaked you out – the amount of times I've had a bottle explode on me have been precisely zero. That being said it's necessary to be aware it can occur if the proper type of glass isn't being used.
Now, if you have any other favourite jun flavours let me know what they are in the comments. Enjoy!
Jun tea – blueberry & lime
An effervescent fermented drink flavoured with blueberries and lime
Print
Pin
Rate
Equipment
1 litre glass bottle with a swing top or screw on lid
Ingredients
875

ml

mature jun saved from the last batch

10

blueberries, fresh or frozen

½ – 1

lime, juiced (or you can simply add a whole ¼ slice into the jar
Instructions
Add 875ml of mature jun from your previous batch into your swing top or capped bottle. Toss in the blueberries and lime juice (or slice of lime). Close the lid and leave to ferment on the bench for 1 – 2 days. Be sure to 'burp' the bottles each day (carefully!) to help with the gas build up. This just means slowly popping the top of each bottle to release the build up of carbonation.

Once they're nice and effervescent, place in the fridge and enjoy a small glass daily.
Notes
Mature jun is what you make in your initial batch. You can find the recipe for that in my 'how to make jun tea' post.
The sky is the limit in terms of flavours so if blueberry and lime aren't your thing try others. Things like raspberry and ginger, strawberry, or even ginger and lime are all as equally delicious.
Nutrition
Calories:
36
kcal
|
Carbohydrates:
10
g
|
Protein:
1
g
|
Fat:
1
g
|
Sodium:
1
mg
|
Fiber:
1
g
|
Sugar:
9
g
|
Vitamin C:
3
mg