When the cold weather strikes this baked oats for one recipe makes the perfect nourishing breakfast. It's quick, easy and warming.
On the plus side, it makes a really great snack too. A kind of cheats banana bread in a way. You can just slice it up when it's done and have it for afternoon tea. I love a versatile recipe!
This recipe (and its many iterations) was actually a viral Tik Tok trend some time in 2021. It became known as Tik Tok baked oats for a while there. I never really saw myself making viral food trends but here we are… I've made my own version as so many other cooks have. Mine is like a wholesome breakfast version of banana bread and we love it.
Ingredients to make baked oats
This is really blended baked oats because one of the tricks is to blend the rolled oats into a flour consistency. You end up with a cake-like batter to pour into your tin. There are no special ingredients here. You should be able to dig straight into your fridge and pantry and get started. You'll need:
Oats – Rich in a soluble fibre called beta glucan, oats contain an abundance of health benefits. They can help to keep blood pressure, blood sugar and cholesterol in check and help to balance the gut microbiome. They also contain plenty of vitamins, minerals and antioxidants making them great for immune health too.
Banana – This adds flavour, sweetness, and also works as an added binder to ensure everything sticks together. I tend to use very ripe bananas when making this, so need much less or no maple syrup. This is a taste preference thing though, so if you like it a little sweeter add the maple syrup.
Maple syrup – As above, this ingredient can be optional. If your banana is very ripe (like ready for banana bread ripe) you likely won't need it. If it's only just ripe you will definitely want it. Play around with how much you add so it's more or less sweet to your taste. I would caution against using bananas that aren't ripe at all though because the recipe will be very bland.
Egg – I like adding egg to this recipe to up the protein content so I don't find myself hungry mid morning. You could absolutely make it without this though given it's a small volume recipe. The banana will help to work as a binder instead.
Almond milk – This was just my preferred milk because I think it adds great flavour. It can be made with any of your choosing so if you'd prefer another just add that instead.
Baking powder – This reacts with the heat when it hits the oven helping to puff up the baked oats. It makes them just that little more airy and delicious.
Cinnamon – A little extra sweetness, but this wonderful spice will also help to balance blood sugar throughout the morning, I love it so!
Salt – Helps to enhance all the other flavours.
You could experiment with adding a little cacao (1/2 to 1 tablespoon) and some choc chips to this recipe. That would give you chocolate baked oats and I think it would be absolutely delicious.
How to make these baked oats for one
This takes little more than four short steps to get in the oven. You could practically make it in your sleep.
Preheat your oven and line a little baking tin with baking paper so they're ready to go. Mine is 18 x 13.5cm (7 x 5.5 inch).
Blend the oats into a flour using a small blender. A Thermomix is not ideal for this, the volume is too small. Go for something like a Nutribullet or Vitamix instead.
Add all the remaining ingredients and blend again to make a batter. This really should look like a cake batter when done. You may need to scrape the oats off the bottom if they're stuck and blend again.
Pour into the prepared baking tin and place in the oven. Cook for 20 minutes or until the top is golden. Remove, add toppings of choice and enjoy!
That's how easy it is. As for the toppings, you can really use anything at all that you like. I used yoghurt, honey and walnuts. Berries and choc chips are nice too. Let your imagination guide you.
As I said earlier, this baked oats recipe also makes a great snack. Once it's cooked, just pull it out of the tin, allow to cool slightly then slice it up. Definitely faster than waiting an hour or so for banana bread to cook.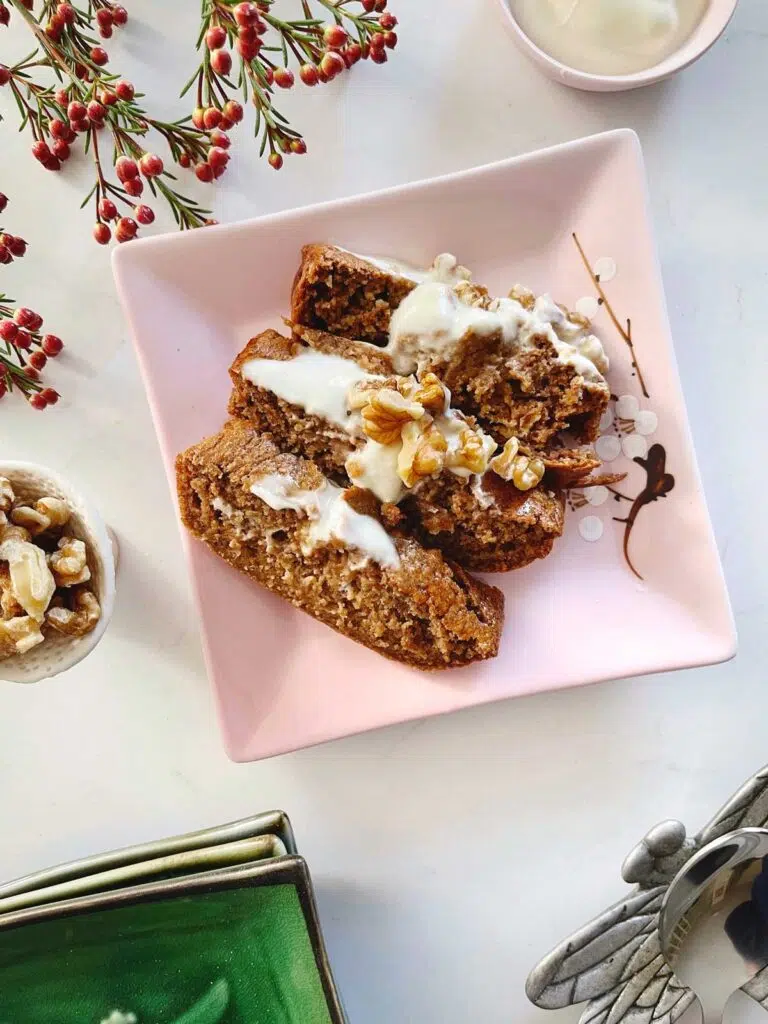 FAQ
Are baked oats good for you?
Yep they sure are. Take a look at the 'Ingredients to make baked oats' section above. I've listed a little about what makes each ingredient great.
Is baked oats and baked oatmeal the same thing?
Yes and no on that. The difference really is texture. Baked oat recipes like this one blend the oats before cooking. With the other ingredients added it's more airy and cake-like. Baked oatmeal leaves the oats whole, which makes it more chewy.
Baked oats no banana is what I'm after.
That's easy too. You could replace the banana with 1/2 a cup of apple sauce or blended stewed apple. Banana not only adds flavour but it behaves like a binder in recipes. Applesauce can do the same thing.
Can I make this without egg?
Yes you definitely can! I would only suggest doing this if using the banana though. I'm not confident it would work with applesauce no egg (see question above). If you're feeling experimental though, give it a go.
What are you going to top your baked oats with? Let me know in the comments!
Watch how to make these baked oats for one
Baked Oats for One
These baked oats for one are such a quick and easy breakfast. It's also packed with nutrients, filling, and delicious.
Print
Pin
Rate
Ingredients
1/2

cup

oats

1

medium

ripe banana

1/4

cup

milk of choice

2

Tbsp

maple syrup

(see note below)

1

Egg

1/2

tsp

baking powder

1/2

tsp

cinnamon

Pinch of salt

Toppings of choice – yoghurt, a drizzle of maple syrup and nuts is what I love.
Instructions
Preheat oven to 180ºC (350ºF) and line a small tin with baking paper. Mine was 18 x 13.5cm (7 x 5.5 inches)

Blend oats into a flour-like consistency. I did this in a Nutribullet (see notes below)

Add remaining ingredients to your blender (except toppings) and blend again to form a batter

Pour into your prepared tin and bake for 20 minutes, or until it looks golden

Remove from the oven, add toppings and enjoy.
Notes
If the banana you're using is very ripe (spotty skin) you might find you don't need the maple syrup. Or you could reduce it by half if you want to.
I have said in the post above that I don't suggest blending oats in a Thermomix. This is because it's a very small volume and is unlikely to get to the flour-like consistency you're after. Going with something smaller like a Nutribullet or Vitamix is ideal.
You could also try replacing the banana with 1/2 cup of applesauce or cooked, blended apple for something different.
Nutrition
Calories:
442
kcal
|
Carbohydrates:
83
g
|
Protein:
13
g
|
Fat:
8
g
|
Saturated Fat:
2
g
|
Polyunsaturated Fat:
2
g
|
Monounsaturated Fat:
3
g
|
Trans Fat:
1
g
|
Cholesterol:
164
mg
|
Sodium:
363
mg
|
Potassium:
724
mg
|
Fiber:
8
g
|
Sugar:
39
g
|
Vitamin A:
316
IU
|
Vitamin C:
10
mg
|
Calcium:
298
mg
|
Iron:
3
mg
Want more breakfast recipes? Try these!