Taking five minutes before bed to make these overnight oats in a jar means you'll have a nourishing breakfast ready on waking.
This is a very versatile and forgiving recipe. I have given ingredient suggestions for toppings but it's really more of a choose your own adventure breakfast. Once the base is made, you can top them with anything you like.
All the ingredients you'll need to make overnight oats
This recipe requires nothing but a few basic ingredients. All you need to do is toss it all in a couple of jars, mix it up and pop it in the fridge. Come the morning add your toppings of choice and you're good to go.
I've used peanut butter in this recipe but even that can be changed if you'd like something else. Both almond and cashew butter are also delicious.
What are the health benefits of overnight oats?
Many health benefits are to be had from the regular inclusion of oats.
Oats contain a soluble fibre called beta glucan. This type of fibre can help to lower cholesterol, blood pressure, and blood sugar as well as improve insulin sensitivity (1). Beta glucan also supports gut health by balancing the gut microbiome (2), and the presence of various vitamins, minerals, and antioxidants also make oats great for immune health (3). Then there's the cinnamon, which is great for keeping blood glucose levels in check and sweet cravings at bay (4).
How to make overnight oats
If you prefer you can of course mix this all in a big bowl then transfer it to the jars. I just like as little clean up as possible!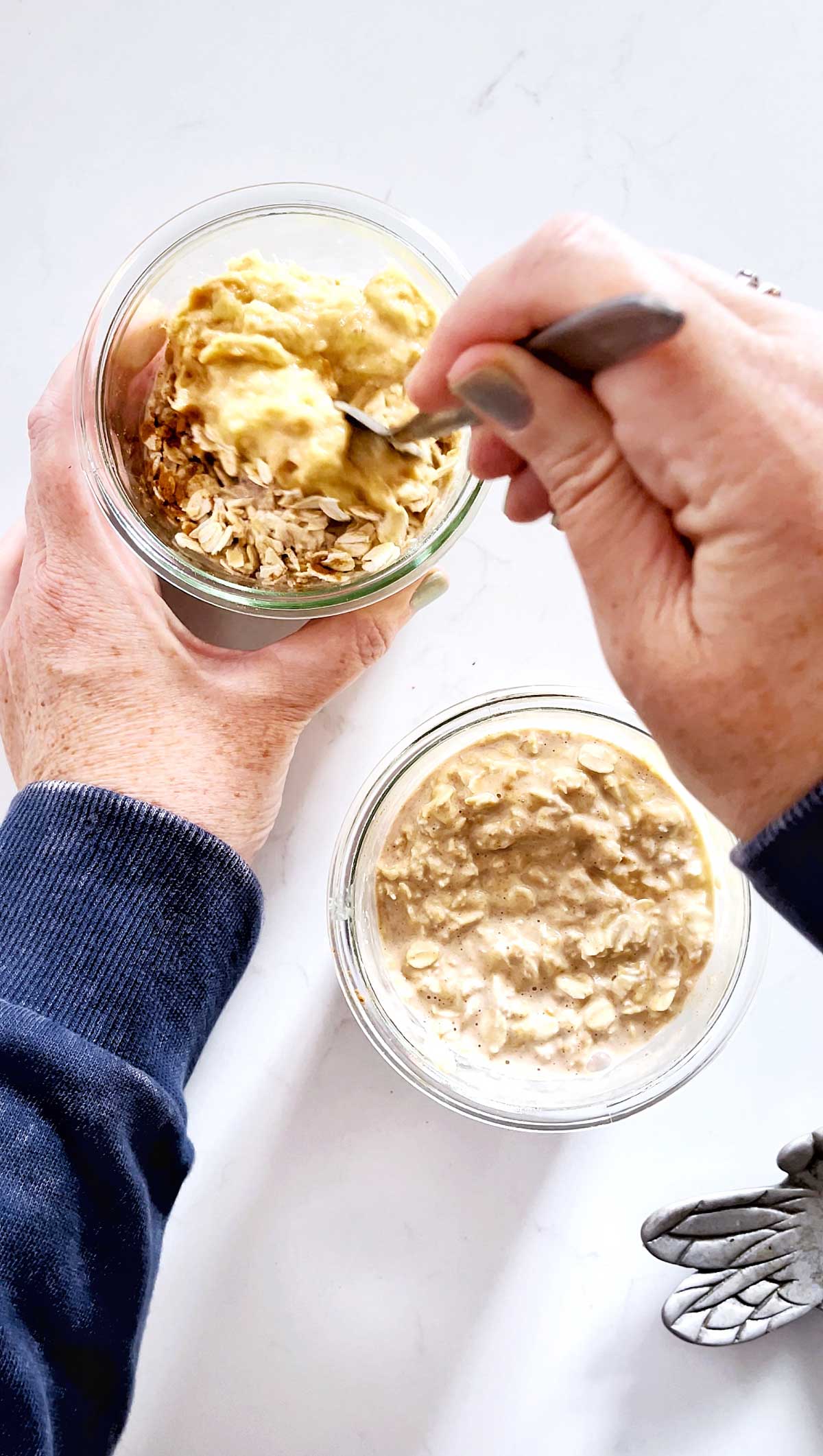 Pour half the oats, cinnamon, and milk into one jar, then the other half into another. Also add the sweetener here if you're using any.
Mix until they've taken on a nice cinnamony colour overall.
Mash the banana and peanut butter (or the nut butter of your choosing) together until it's like a thick paste.
Add half the banana/nut butter mix to each jar and stir again to combine.
Chill in the fridge overnight then choose your own adventure on the toppings in the morning. It can be anything at all that you like. I went with strawberries, raspberries, chocolate chips, granola and some maple syrup for this recipe.
You can really use any fruit you like here. As for which ones go best, I'd just suggest thinking about what works with milk. I personally wouldn't add things like citrus fruit but each to their own. Things like berries, banana, passionfruit or even stewed apple or pear match perfectly.
These jars will easily keep in the fridge for a couple of days but may firm up slightly. If this happens, just add a touch more milk and mix it through before you add the toppings.
FAQ
How long should overnight oats sit?
Oats can be quite tough to digest when raw and still firm due to the starch they contain. As such, it's important to ensure they soak up plenty of liquid to soften up. The longer they soak, the more this starch will break down making the oats more digestible and easier on the gut. 2-3 hours would be the absolute minimum but 8-10 overnight is best.
Are overnight oats eaten hot or cold?
They're eaten straight from the fridge – so, cold. If you're after something more warming porridge is the way to go.
Why did my overnight oats not work?
It was likely too little or too much milk. 3/4 of a cup of oats will need roughly 1/2 a cup of milk. It could take a touch more if you'd like the overnight oats less firm. But too much and they'll be swimming in liquid in the morning.
Do you add fruit to overnight oats before or after?
You can really do either, as I have in this recipe. I've added banana to the base mix, then topped with strawberries and raspberries before serving. If you do add any fruit to the oats before they go in the fridge, I'd suggest mashing them first.
Drop me a comment if you make this. I'd love to know what toppings you used!
Watch how to make these overnight oats here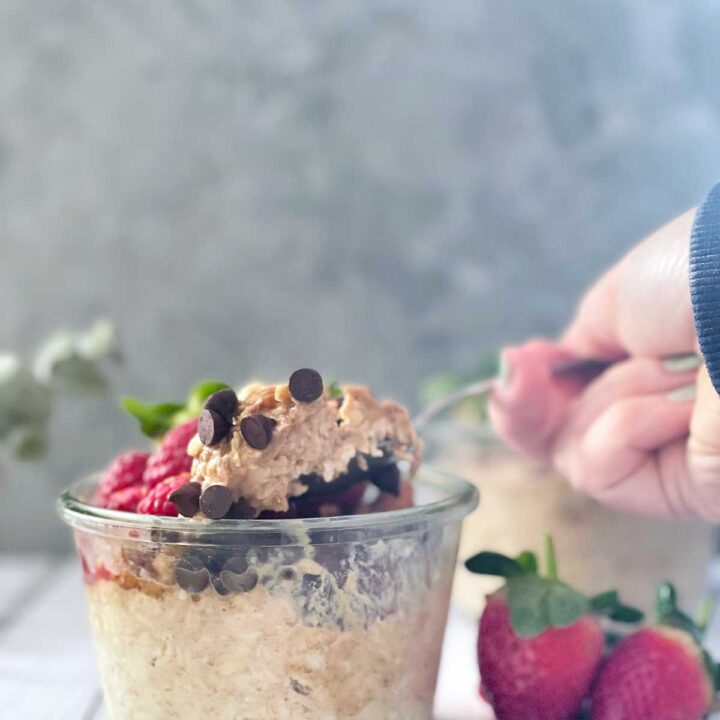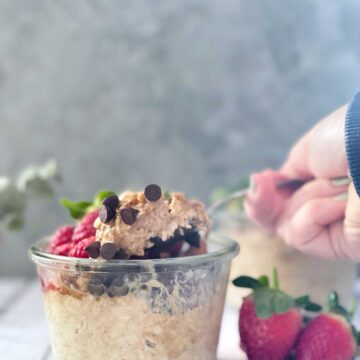 Overnight Oats in a Jar
These overnight oats take five minutes prep before bed, then you'll have a nourishing breakfast ready for you on waking.
Print
Pin
Rate
Equipment
2 Jars with lids

(roughly one cup to 300ml (10 oz) capacity)
Ingredients
1.5

Cups

rolled oats

1

Cup

almond milk

(or your milk of choice)

2

Tbsp

peanut butter

(smooth or crunchy is fine)

1

Medium

ripe banana, mashed

(this is optional but makes the oats even more creamy and delicious)

1/2

tsp

cinnamon

1

Tbsp

maple syrup

(optional, I usually don't add it, as I find the banana sweet enough)

Extra toppings of your choice. I used strawberries, raspberries, chocolate chips, granola and a drizzle of maple syrup.
Instructions
Place half the oats, almond milk and cinnamon into one jar and the other half of these ingredients into another. Stir each to combine.

Mash the peanut butter and banana together, then place half in each jar

Stir all ingredients in each jar well, then put a lid on both and place them in the fridge overnight

Decorate the top of the oats with your toppings of choice and a little extra drizzle of maple syrup or honey the next morning before serving then enjoy!
Notes
You can use any nut butter you like here, it doesn't have to peanut butter. You can also add your toppings of choice. Some suggestions I mentioned in the post above for fruit are berries, passionfruit or even stewed apple or pear.
See the FAQ above for other hints and tips to help you make the perfect overnight oats every time.
Nutrition
Serving:
1
jar
|
Calories:
424
kcal
|
Carbohydrates:
66
g
|
Protein:
13
g
|
Fat:
14
g
|
Saturated Fat:
2
g
|
Polyunsaturated Fat:
4
g
|
Monounsaturated Fat:
6
g
|
Sodium:
236
mg
|
Potassium:
546
mg
|
Fiber:
9
g
|
Sugar:
16
g
|
Vitamin A:
39
IU
|
Vitamin C:
5
mg
|
Calcium:
208
mg
|
Iron:
3
mg
Want more breakfast recipes? Try these!